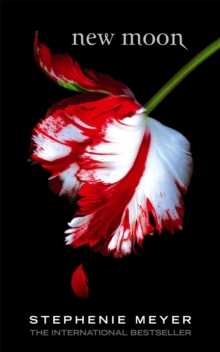 Description
I stuck my finger under the edge of the paper and jerked it under the tape. 'Shoot,' I muttered when the paper sliced my finger.
A single drop of blood oozed from the tiny cut. It all happened very quickly then. 'No!' Edward roared ... Dazed and disorientated, I looked up from the bright red blood pulsing out of my arm - and into the fevered eyes of the six suddenly ravenous vampires.For Bella Swan, there is one thing more important than life itself: Edward Cullen.
But being in love with a vampire is more dangerous than Bella ever could have imagined.
Edward has already rescued Bella from the clutches of an evil vampire but now, as their daring relationship threatens all that is near and dear to them, they realise their troubles may just be beginning ...
Information
Format: Paperback
Pages: 512 pages
Publisher: Little, Brown Book Group
Publication Date: 06/09/2007
Category: Fantasy
ISBN: 9781904233886
Other Formats
Paperback from £7.25
Hardback from £9.89
EPUB from £4.99
Free Home Delivery
on all orders
Pick up orders
from local bookshops
Reviews
Showing 1 - 5 of 19 reviews.
Previous | Next
Review by Velvet-Moonlight
16/06/2015
If you want a story of a damsel in distress and a whiny too-perfect vampire for her to trip over, get stephenie meyer's series. But I warn you, dare you think too much into the story, you may just be disappointed; only the airy may continue to read on [and spend money] Twilight, New Moon, and Eclipse. Do not expect any surprises or twists, you get what you read, and that is that.
Review by readingrat
16/06/2015
Just a few pages in, I found that I had high hopes for this sequel. Edward leaves, and Bella is able to pursue a more appropriate relationship with Jacob Black and to try to re-kindle some normal friendships with her schoolmates. However the reprieve from Edward is all too short. From that point on, I found myself disliking Bella and all of her melodrama more and more with each page of this book.
Review by thecommonryan
16/06/2015
I have to say that I loved the symbolism, I loved the use of Romeo and Juliet to explain themes, I love the way the author strings the story together. I love the action, and the pace, and the way I can't put it down. However, I hated the love interest. My only hope is that eventually the stupid vampire DIES A HORRIBLE PAINFUL DEATH.
Review by klarusu
16/06/2015
This is the second in the 'Twilight Series' and continues the tale of the 'great love' between Edward (vampire, superlatives cannot describe his beauty) and Bella (human, self-confidence zero, deathwish).To be fair to the literary side of things, I must say that once again Meyer's writing is uninspiringly pedestrian. Let's face it, the story premise and background is borrowed from just about every vampire genre success story - heavily from the Buffyverse and (especially the Italian vampires) eerily reminiscent of a teenage homage to writers such as Anne Rice. I use the word 'teenage' intentionally - the best YA genre writers write for that audience, not as if they are one of them. Meyer doesn't. Her style is adolescent - like a teenager writing Buffy fan fiction rather than an author crafting a viable set of characters. In contrast to the 'vampire greats' like Anne Rice, Meyer's characterisation is weak and overly reliant on long lists of indulgent adjectives rather than real character building. Bella, in particular, is completely lacking in depth - I wondered how much more I could take of her self-deprecation and Edward's 'beauty'. I had a problem with the religion-pedalling debate about vampires and souls. It was out of place. I don't object to religious sub-themes, intelligently handled, in books where the story justifies it, but here I felt that it did not have a place in the story other than possibly to make the characters more acceptable to the author herself. For writing quality, by rights this should be a one-star book.Meyer's success lies in the fact that despite all of this, her books have frustratingly enjoyable stories. This one is no exception. I say 'frustratingly' because I feel annoyed as I imagine what a book it could have been if it were in the hands of a good writer.So, why am I going to read 'Eclipse'? Because I enjoyed it despite all of the above. It's the fulfilment of every adolescent bad-boy fantasy that teenage girls have ever entertained. It's a dangerous drug this 'Twilight' series .... I'm hooked!
Review by deargreenplace
16/06/2015
The second instalment of the Twilight saga begins with Bella and Edward back in Forks. Bella is recovering after her adventures with the vampire James in Phoenix, and the couple are celebrating Bella's birthday at the Cullen house when an accident changes Edward's mind about the wisdom of their relationship.In short, Bella gets dumped, and as you might remember from being 18, it's absolutely the end of the world. Like totally. Bella wallows in her misery for a lot of this book, which does get irritating when you're as far from being 18 as I am, but to give credit to Meyer, she captures the self-indulgence and melodrama fairly accurately - right down to Bella and Edward comparing themselves to Romeo and Juliet. Oh please.<strong>New Moon</strong>'s redeeming feature is the development of Bella's friendship with Jacob Black, a Quileute indian who lives on the La Push reservation - a place where vampires do not go. As we discovered in Twilight, local legend dictates that the Quileutes cannot exist without the Cold Ones, and vice versa, though Bella has yet to find out the true extent of her friend Jacob's involvement in the long-running feud with the vampires.I confess that I am completely Team Jacob. He is adorably patient, kind-hearted, happy, straightforward, and he brings Bella out of her sulk. Unlike Edward, he is a good friend to her and promises to be reliable. She herself admits that she feels happy around him. So it's a shame that she darn well appears to be leading Jake on by keeping him dangling as a potential back-up plan in case Edward never reappears. While I again admit that I'm not the target audience for these books, I just cannot feel any sympathy for Edward or Bella. They're both hideously selfish and self-indulgent characters, only slightly redeemed by the success of their characterisation in the Twilight film. In the books, they are absorbed only in themselves, typical teenagers perhaps, and oblivious to the feelings of those around them. Maybe it works better if you're closer to their age?
Also in the Twilight Saga series | View all