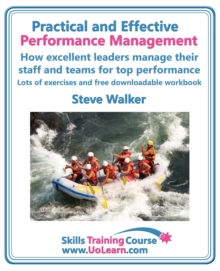 Practical and Effective Performance Management - How Excellent Leaders Manage and Improve Their Staff, Employees and Teams by Evaluation, Appraisal and Leadership for Top Performance : For Line Manage
Paperback / softback
Description
Practical and Effective Performance Management How excellent leaders manage and improve their staff, employees and teams by evaluation, appraisal and leadership for top performance and career development. For line managers, team leaders and supervisors to enhance their performance management skills.
Effective, flexible and creative performance management lies at the heart of excellent leadership; which creates successful and innovative businesses.
This book is aimed at people who are line managers, team managers or supervisors who really want to improve the way that they lead and encourage their staff to perform at their best.
It gives a practical approach to solving real workplace issues with a step by step guide to actions that will encourage excellent performance.
This book is aimed at line managers, team leaders and supervisors who want to improve their team's performance by working towards excellence with all members of their team.
The book is accompanied by a downloadable action planning workbook to help managers plan and record their choices.
This can be found at http://www.uolearn.com A rugged practical approach asking, What do you need to change to get excellent performance from every individual in your team?A" 5 key ideas to help you understand performance management. 4 step model for effective performance management in real world situations. A large, wide ranging choice of over 40 levers, tools that managers can use to improve performance and opportunities in their teams. Key practical research on performance management in organisations. How to encourage the people who are already performing at their best and how to help those who are struggling to achieve excellence. Practical exercises and action planning for you to develop your leadership skills.
A toolbox of ideas and actions to help you become an excellent leader.
Praise for the performance management book. It gave me practical tips which I can implement.A" It gave me the opportunity to focus and take on board information while reflecting on my own practice.A" I am really impressed with the amount of information that is in this book.
It feels well researched and has been written by someone who has trained this in the real world.A" Steve's approach is to look holistically at performance management - addressing all aspects of the performance spectrum and linking models and theory with practical examples from his extensive experience of working with organisations.
Steve makes performance management accessible and understandable, helping managers to clearly identify how they can get the best out of their people.A" This should be rolled out to all managers in my organisation.A" I wish I'd had this book 15 years ago.
It is so well written and has loads of practical advice for everyday situations.
I found it really helped me to reflect on my skills as a manager.
Excellent and useful book.A" Head of IT, Large International Company.
Steve Walker is a skilled and experienced trainer, consultant and communicator.
In a varied career he has worked in the criminal justice system, in universities, for a small consultancy firm and for the Lord Chancellor's department.
Over the last 15 years he has run his own consultancy, providing successful help to a large range of organisations, big and small, across sectors and covering a variety of projects as well as developing other businesses. He is also experienced in one to one coaching with managers.
In his work with organisations and individuals Steve focuses on issues around leadership, strategy, culture, performance, development and teamwork, using a reflective and practical approach that brings the best out of people.
He is known for helping managers disentangle knotty leadership issues and dilemmas, using relevant research, experience, fresh ideas and clear analysis and sound communication.
In his work Steve's goal is to help people to work out specific actions that they can take back to their real world and apply with confidence, and he has a strong and successful track record in this.
He is committed to an effective leadership approach that also focuses on developing people and treating them with respect and integrity.
Steve has covered performance management at a number of levels, from working with senior managers on improving performance across the whole organisation to helping team leaders with everyday front line performance problems and opportunities.
Steve always takes a pragmatic approach to his work on performance management. He makes sure that the advice and help that he gives are useful in the everyday situations that managers find themselves.
At the same time he works with people in a considered and thoughtful way, using up to date research to inform advice and actions.
Steve is also careful to take into account all of the complications in any issue to make sure that solutions stick: no quick easy wins that lead back to even worse problems.
For some time Steve has been keen to convert this work into a book on performance management that captures his and hundreds of managers' experiences and then goes on to offer real ways to tackle what can be horribly difficult issues.
This is a book with a difference, blending tried and tested ideas with rugged, real world pragmatism to help all managers to work on and improve the way that they manage the performance of their staff and their teams.
Information
Format: Paperback / softback
Pages: 206 pages, 84 illustrations
Publisher: Universe of Learning Ltd
Publication Date: 01/01/2011
Category: Personnel & human resources management
ISBN: 9781849370370
Free Home Delivery
on all orders
Pick up orders
from local bookshops
Also in the Skills Training Course series | View all