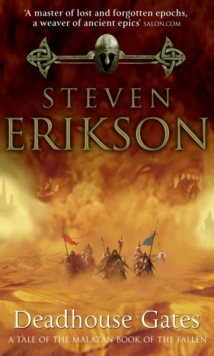 Deadhouse Gates : Malazan Book of the Fallen 2
Paperback
Description
Weakened by events in Darujhistan, the Malazan Empire teeters on the brink of anarchy.
In the vast dominion of Seven Cities, in the Holy Desert Raraku, the seer Sha'ik gathers an army around her in preparation for the long-prophesied uprising named the Whirlwind.
Unprecedented in its size and savagery, it will embroil in one of the bloodiest conflicts it has ever known: a maelstrom of fanaticism and bloodlust that will shape destinies and give birth to legends... In the Otataral mines, Felisin, youngest daughter of the disgraced House of Paran, dreams of revenge against the sister who sentenced her to a life of slavery.
Escape leads her to raraku, where her soul will be reborn and her future made clear.
The now-outlawed Bridgeburners, Fiddler and the assassin Kalam, have vowed to return the once god-possessed Apsalar to her homeland, and to confront and kill the Empress Laseen, but events will overtake them too.
Meanwhile, Coltaine, the charismatic commander of the Malaz 7th Army, will lead his battered, war-weary troops in a last, valient running battle to save the lives of thirty thousand refugees and, in so doing, secure an illustrious place in the Empire's chequered history. And into this blighted land come two ancient wanderers, Mappo and his half-Jaghut companion Icarium, bearers of a devastating secret that threatens to break free of its chains... Set in a brilliantly-realized world ravaged by anarchy and dark, uncontrollable magic, Deadhouse Gates is the thrilling, brutal second chapter in the Malazan Book of the Fallen.
A powerful novel of war, intrigue and betrayal, it confirms Steven Erikson as a storyteller of breathtaking skill, imagination and originality - a new master of epic fantasy.
Information
Format: Paperback
Pages: 960 pages
Publisher: Random House USA Inc
Publication Date: 01/10/2001
Category: Science fiction
ISBN: 9780553813111
Free Home Delivery
on all orders
Pick up orders
from local bookshops
Reviews
Showing 1 - 5 of 8 reviews.
Previous | Next
Review by Capfox
16/06/2015
I picked up this book after reading a friend's gift to me, the first book in this series, last year, and I liked it well enough. It had enough going for it that I tracked down the second one, too. Now that, that was a good idea.Deadhouse Gates is a sequel closer to the Diana Wynne Jones style sequel than the George R. R. Martin style one, since you probably can get away with not reading the previous book in the series and still get most of the quality. You'd miss some character points and a couple of connections, but not that much, all around. It's set on a different continent from the previous book, with a largely different set of characters, and a largely unrelated plot setup.The setup is basically the same, though: multi-POV, most of them low-ranking players, and it takes you through the course of a military campaign: one army taking a huge train of refugees through a large amount of hostile territory to try to deliver them to the one remaining safe haven. There are also other plot lines, dealing with journeys of redemption, assassination and discovery.There's a lot to keep track of, but it's not confusing. The descriptions are lucid, if horrifying sometimes, the characters fleshed-out and lively, the scale sweeping and epic, and the plotting very well done, although it's a bit of a slog as everything gets set up; with all the POVs and plotlines, getting all the pieces on the board takes a while, and it's not great until they're all out there. The battles and tactics are well-handled and not monotonous: it's not the same thing twice, and it's all fairly realistic (allowing for the magic of the world, but it's well delineated how that works).The first one felt like he was reaching at points, and that there was a bit of Dragon Ball Z syndrome (he's INCREDIBLY POWERFUL... but not as powerful as... THIS GUY HERE!). The latter is around only once or twice here, but the first is gone completely. Erikson feels in control of his prose and plotting, and the result is a brilliant epic story. I was going to ding it for what feels like workmanlike prose in places, but then towards the end, Erikson really brings something out emotionally; it made me cry, it was so good. I think much of it, because it's supposed to be a history, can come off a bit dry, but it's still the good kind of history.All told: very well done, indeed. If only all the books I read this year are this good, I'll be a very happy man.
Review by reading_fox
16/06/2015
The second of the tales of the Malzan empire. Following the fates of some of the characters from the first book, and introducing some new. The incredabily confusing style continues, not only are there a very large a bewildering cast of characters, places, and races the action chops and changes from one POV to the next within a few paragraphs. The reader does not get sufficient time ot workout who is where and what is going on before being whisked away again. A leser author would have completely lost everyone but Erikson is a true master of the Epic fantasy and the worlds and personality he creates is just, only just but sufficiently, massive to entrall. For those who though Tolkein thin, and want a fantasy that really engages a continent wide, if not worldwide span, as few others can manage, than this might be the series for you.To me it is just too complex. I read to escape, and Erikson drags you into the complexities of a whole world. the various POV are nearly always low rank characters, a historian, a sapper, etc so you get no overview of what is happening. 900 page sof confusing focus is a lot of confusion.Coltrane marches an army of refugees from various sacked cities across a desert, while being attacked by the new revolutionary army. Various other scattered elements of WhiskeyJack's former bridgeburners travel about abit on their various personal goals pickignup odd companions along the way. It helps if you remember all the details from the Gardens of the Moon, but I couldn't face the thought of re-reading that tomb too. Despite all the Epicness, the actual prose is well writen, the characters detailed and alive and the plot interesting. But I'd prefer a 500pg summary instead.
Review by Luck
16/06/2015
A great series of books. I cannot wait for the next one.
Review by DRFP
16/06/2015
Well, there's good and bad news here.The good? <i>Deadhouse Gates</i> is certainly no less than a decent novel. The bad? It's <i>only</i> a decent novel and having waded through 2000 pages of the Malazan saga I'm still not convinced this is a series worth the enormous effort required to see it through to the end. One feels that Erikson is simply grasping at too much in this series. The main problem here is that there's just too much going on. That's not always a problem but here it is. Events roll on from one to the other and there's no breathing space. There are a few very big revelations in this novel that almost pass by unnoticed given the scant attention devoted to them (for instance, Dujek's rebellion, surely the main point of the first novel is only worthy of one or two lines the entire novel - people in the Seven Cities had more pressing matters, true, but I couldn't believe that there was practically no acknowledgement of the fallout from <i>Gardens of the Moon</i>). Other events of real consequence don't carry the weight they should because Erikson so swiftly rushes on. Even the end of the Chain of Dogs, the only truly harrowing thing in the whole novel, felt slightly underplayed. There's hardly the extended drama of an event like The Red Wedding, say. The entirety of Coltaine's march should be an epic event, yet only the end feels like that. Erikson never pauses to allow his characters, and us readers, the opportunity to experience the march. For instance - no point of view or knowledge is given to us of how the refugees experienced the march. Who chases Coltaine? Faceless armies, the odd named general who we barely, if ever, see. Who is the villain in such a piece? Where can we direct our anger? A story needs good villains as much as it needs good heroes and a big bad guy is noticeably lacking here. Likewise, very little is know about the soldiers' experience on the march except that they went to one place, had a battle, moved on, had another battle, did some more walking, had another battle and kept on doing this again and again. That's not to say these battles aren't exciting but they lack an edge as they're fought by characters developed only to a minimum. By trying to do so much in this story Erikson undermines himself. Action is all well and good but I felt Erikson really gave the story and his characters too little room to <i>live</i> and fill out their experiences.That's another problem with this novel: because so little time is really devoted to the characters almost everyone comes across the same. The uniquely delightful Iskaral Pust aside, everyone seems to be exactly the same in character - unrelentingly grim and serious. True, no-one is really in a good situation but I despaired at how the tone of the novel is completely flat - it is just one long, serious, grim grindfest. Even if Erikson lacks the wit of GRRM he could look to <i>The Black Company</i> (an obvious influence anyway) and see how Cook uses the likes of Goblin, One Eye, Croaker, to change tones and vary the story. The near singular mood of the novel did tire at times and it cried out for another Kruppe (a role Pust doesn't quite fulfil).World building has been a fantasy staple ever since Tolkien but I feel Erikson needs to apply some brakes on this too. I consider the Malazan empire fascinating and I enjoy the depth Erikson provides that aspect of the story (in fact I wish its organization, its ethos and general philosophical underpinnings were given more substance). Yet I find the T'lan Imass and other non-human groups of his world dull and uninteresting. They might be hugely powerful but I fail, yet, to see why they're given so much space in these novels, why they're important. There is so much focus on Icarium in this novel, but why, apart from the fact he could cause so much destruction is he important to the story? No real reason was given, he was just plonked in there as far as I could tell. Similarly, all the sudden emergence of so many faceless enemy Soultaken and D'ivers in this book was tedious to say the least (although it's not like Coltaine's foes are anything less than "faceless" too).I can at least congratulate Erikson on correcting some issues I had with the first book. Most importantly, it seemed (stupidly) as if the Empire was blind to the threat from the Pannion Domin. Thankfully events in this book proved that to be untrue and Erikson does a good job of erasing some leftover question marks. I just hope that in the future that details from this novel are properly resolved or given appropriate meaning (such as Icarium's prominence in this book). Another positive is that there isn't such a focus on super-powerful beings in this instalment and so the story feels a bit more human and down to earth this time. Although I've focused on what I didn't like about this novel it's still, as I said, a decent book, worth a solid three stars. Erikson isn't a bad writer and I'm willing to give the series one more thousand page effort to pull me in (and if it doesn't after <i>Memories of Ice</i> then I can't see myself wading through a further 7000+ pages just to get to the end of it all). Plot, characters, action, prose - everything's up to a decent standard here, it's just a shame Erikson isn't that much better in the way one feels he could be. I've read my share of great and awful fantasy and Erikson doesn't belong in either category at the moment. He's just middle of the road, for better or for worse, and that's why, in the end, I can only give this novel three stars.
Review by StephenBarkley
16/06/2015
"Keep reading, try book two," they said. "It gets easier!" Pffft.I read The Gardens of the Moon carefully, knowing its reputation for being thorny. The end result was rewarding. I must have let my mental concentration lapse sometime during the second book because it was full of moments when I had to try to remember exactly who that guy was and why his tattoos were changing colour!The fault, however, is all mine. Though bleak at times, Deadhouse Gates is an engaging work of fantasy. Nothing fits into nice neat boxes. Just when you think you understand some idea, conventional wisdom is pushed aside for something deeper.The bleak tone of the book did weigh on me at times. There is so much war and suffering that it can be difficult to read. It has certainly spurred my convictions on the pointlessness of war with all the human suffering it brings.So if you've read book one, read book two—carefully. When I move on to Memories of Ice, I'm going to set aside a few weeks and read a chapter per night—Erikson rewards a close reading.
Also in the The Malazan Book Of The Fallen series | View all