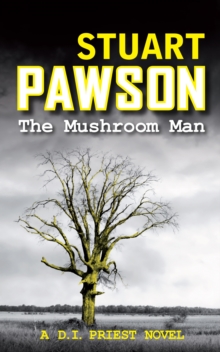 The Mushroom Man
Paperback
Description
When Georgina, eight-year-old daughter of businessman Miles Dewhurst, is kidnapped, DI Charlie Priest and his colleagues at Heckley police station soon start to fear the worst.
Dewhurst himself is devastated and willing to give up everything to raise the ransom that might be required.
But Charlie is not convinced that Dewhurst is all that he seems.
Meanwhile, these are dangerous times for clergymen. Two are found dead under suspicious circumstances and a third is murdered by a shotgun blast.
The deaths are linked by a picture of a Destroying Angel mushroom, left beside the body of the most recent victim, but why would a serial killer focus on men of the cloth?
As he races against time to find Georgina, and happens upon the first real clue in the hunt for the Mushroom Man, events take a dramatic personal turn, for Charlie is more deeply embroiled in one of the cases than he realises.
Information
Format: Paperback
Pages: 288 pages
Publisher: Allison & Busby
Publication Date: 09/01/2004
Category: Crime & mystery
ISBN: 9780749083854
Free Home Delivery
on all orders
Pick up orders
from local bookshops
Reviews
Showing 1 - 2 of 2 reviews.
Review by DeltaQueen50
16/06/2015
The Mushroom Man by Stuart Pawson is the second in the Charlie Priest series set in Yorkshire and I enjoyed this one every bit as much as the first one. DI Charlie Priest is working a couple of trying cases, both involving children. Meanwhile a serial killer, dubbed the Mushroom Man, is targeting men of the cloth, and although this isn't a case that Charlie and his crew have been directly working on, some dark events eventually pull Charlie into the hunt.This is an excellent police procedural series with the author taking great care in showing the day to day focus of the team as they work through the clues. As these cases involve children which can be extremely difficult to read about, I was glad that the author chose to highlight the investigation not the crime. Charlie Priest is a great character, he has both a good working relationship with his team and shares a friendship with most of them as well, his immediate supervisor is both a friend and a professional. The storyline was interesting and at times quite intense. I appreciated the short breaks that Charlie took from solving crime to work on his growing relationship with the beautiful widow Annabelle Wilberforce. I owe my grandson a big thank you for pulling The Mushroom Man down from my shelves for me to read this year which obliged me to also read the first book. This is a great series and now that I have the first two under my belt, I look forward to continuing on.
Review by cathyskye
16/06/2015
I've been spending some time this summer picking up where I left off with several mystery series that I've enjoyed in the past. After reading The Mushroom Man, the second book in Pawson's Charlie Priest series set in Yorkshire, I tried to remember how long it had been since I'd read the first, The Picasso Scam. Five years, that's how long. I can't believe it, especially since I clearly remember enjoying that first book so much. After falling under Charlie's spell every bit as deeply as I did the first time, I'm going to have to make sure another five years does not go by before I read the third. Stuart Pawson writes excellent mysteries!The two separate investigations are both very strong. Many writers would have chosen to separate them into two books, but Pawson knows what he's doing. Oh boy, does he know. In some ways it almost feels as if he's teasing readers because clear clues are provided all along the way. All we have to do is see them for what they are. Both cases do not focus on the actual crimes, and I was grateful for that, especially in the case of the missing child. No, the focus in both is on the investigation itself and in showing how patient, dogged footwork-- and a tiny dash of intuition-- can bring a murderer to justice.Charlie Priest himself is a marvelous character, and one of my favorites. He went to art school, wears artsy fartsy ties, and doesn't particularly care for high brow music. He has a great relationship with his team, partly because he's always out there working with them and partly because they know exactly what he expects from each and every one of them. With two such engrossing cases for readers to attempt to solve, his bumbling efforts to show Annabelle Wilberforce how much he is growing to care for her are a welcome-- and endearing-- respite.How did I fare in deducing the killers? One out of two. I was laser-sharp at spotting the very first clue Pawson planted for the missing child, but I was a dismal failure in the second investigation. In fact, when I learned why the clergymen had been targeted, the answer was so blindingly obvious that I could have slapped myself upside the head. Having this much fun reading a mystery should be illegal. Since it's not-- and before anyone in authority changes that-- I'd better move on to the next Charlie Priest novel!