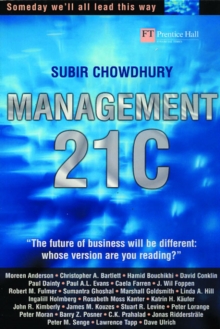 Management 21C : Someday we'll all lead this way
Paperback
Description
"Excellent! Chowdhury has gathered together under one roof, so to speak, a remarkable group of thinkers who give us their best bets on how our organizational futures will look.
I found it enlightening and useful." - Warren Bennis, Distinguished Professor of Business, Univ. of Southern California, Co-author of Organizing Genius and Co-Leaders "If you read only one management book this year, make it Management 21C.
A provocative future-oriented book that offers a dramatic and convincing view of what leaders and organizations will need to be successful in the 21st century." - John A.
Quelch, Dean, London Business School "You only have to take a look at the list of contributors to know the kind of book you're going to be reading.
It's extremely stimulating and is fabulous at guiding the reader through the minefield of management." - Anita Roddick O.B.E., Founder, The Body Shop "Remarkable thought leaders have produced a remarkable guide for the leader in the new century." - Frances Hesselbein, Chairman of the Board of Governors, Peter Drucker Foundation "Subir Chowdhury has collected a `who's who' of thinkers and writers about leadership.
In addition to his own thought provoking chapter `Towards the Future of Management', the book opens a window of the challenges for leadership in the new millennium.
The contributors present their ideas and positions on the requirements for the next century - that beginning the second thousand years since Christ's birth." "The book has the fascination of a good novel - plus the exposure to many of our best `futurists'.
I recommend it to organization leaders, consultants and academicians who are working on this critical issue for all of us." - Richard Beckhard, Principal, Richard Beckhard Associates, Emeritus Professor, Sloan School of Management, MIT "Each Chapter will kick start the brain to deal with the 21st century.
A very thoughtful collection." - Philip B. Crosby, Author, Quality and Me: Lessons from an Evolving Life
Information
Format: Paperback
Pages: 304 pages
Publisher: Pearson Education Limited
Publication Date: 26/07/2002
Category: Business strategy
ISBN: 9780273661122
Free Home Delivery
on all orders
Pick up orders
from local bookshops