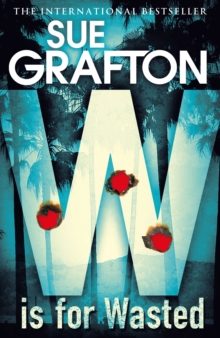 Description
Two dead men changed the course of my life that fall.
One of them I knew and the other I'd never laid eyes on until I saw him in the morgue.
The first was a local PI of suspect reputation. He'd been gunned down near the beach at Santa Teresa.
It looked like a robbery gone bad. The other was on the beach six weeks later. He'd been sleeping rough. Probably homeless. No identification. A slip of paper with Private Investigator Kinsey Millhone's name and number was in his pants pocket.
The coroner asked her to come to the morgue to see if she could ID him.
Two seemingly unrelated deaths, one a murder, the other apparently of natural causes.
But as Kinsey digs deeper into the mystery of the John Doe, some very strange links begin to emerge. And before long at least one aspect is solved as Kinsey finds the key to his identity ...In this multilayered tale, the surfaces seem clear, but the underpinnings are full of betrayals, misunderstandings, and outright murderous fraud. And Kinsey, through no fault of her own, is thoroughly compromised ...
Information
Format: Hardback
Pages: 496 pages
Publisher: Pan Macmillan
Publication Date: 12/09/2013
Category: Crime & mystery
ISBN: 9780230745889
Other Formats
Paperback from £7.65
EPUB from £5.59
Free Home Delivery
on all orders
Pick up orders
from local bookshops
Reviews
Showing 1 - 1 of 1 reviews.
Review by shelleyraec
16/06/2015
I think it was in the early 1990's that I first discovered Sue Grafton's Kinsey Millhone series, and I immediately raced through the alphabet then waited impatiently each year for the next installment. W is for Wasted is the 23rd novel and Grafton has confirmed there are just three to go.Despite my longstanding love of the series, I have to admit I was a little disappointed with W is for Wasted. Though Kinsey is still a character I both like and admire, though she has mellowed considerably over the years, the plot was fairly lacklustre and the book length (704 pages) extravagant.When a homeless man is found dead on the beach, PI Kinsey Millhone can't explain why the stranger has her name and phone number in his pocket but Kinsey's curiosity, fueled by a lull in work, finds her out on the streets to try and find out more about the unidentified 'John Doe' and what he may have wanted with her. She is stunned when she learns that the dead man, Randy Terrence Dace, was actually related to her and he has left Kinsey half a million dollars. As Kinsey digs deeper into the tragic history of Dace, she uncovers a surprising connection between the man and the murder of a colleague, Pete Wolinsky six months prior.There are dual narratives in W is For Wasted. Kinsey's familiar first person and a third person perspective that tracks Pete Wolinsky in the lead up to his death. The issue for me here was that essentially we are ahead of Kinsey in terms of the main arc, thanks to Wolinksy's narrative, and always waiting for her to catch up. The links between the two cases are quickly obvious and to me it felt it all dragged on too long. With few surprises and very little action, there is no real urgency about the investigation until the last few pages.It is family that challenges Kinsey the most in W is for Wasted, in naming her the executor and main beneficiary of his will, Dace forces her to confront her 'orphaned' status, and her avoidance of family relationships. Dace's disinherited adult children are unimpressed with Kinsey's claim of kinship, and while Kinsey has no desire to 'play happy families' she is surprised to find herself ruminating on what it would have been like to have had family, aside from her aunt, growing up.Familiar cast members make an appearance, Henry is readying his garden for winter, William is moaning as usual, this time about his sciatica, and Kinsey's on again, off again lover, Robert Dietz, makes a brief appearance as does former partners Cheney Phillips and Jonah Robb. For readers familiar with the series, these constants, and reminders, are a joy.My familiarity with this series means comparisons between the books are inevitable and though I don't think this is Grafton's strongest installment, W for Wasted is still a good read for fans. With Kinsey's story nearly over, I wouldn't want to miss anything anyway.
Also in the Kinsey Millhone Alphabet Series series | View all