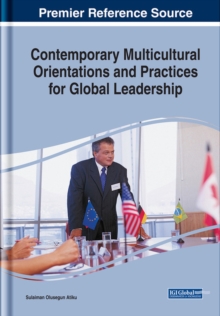 Contemporary Multicultural Orientations and Practices for Global Leadership
Hardback
Description
With the rise of the global economy, business operations and activities are no longer restricted by geographic territory.
Therefore, development of diverse and adaptive leadership practices are necessary in order to succeed in a multicultural, complex, and often uncertain global environment. Contemporary Multicultural Orientations and Practices for Global Leadership is an essential reference source that seeks to enhance multicultural competencies and leadership attributes of contemporary global leadership practice to better navigate global business environments.
Featuring research on topics such as human resource strategies, social responsibility, and psychological capital, this book is ideally designed for managers, business leaders, and researchers seeking coverage on multicultural intelligence and its relation to leadership development and the success of organizations.
Information
Format: Hardback
Pages: 276 pages
Publisher: IGI Global
Publication Date: 30/11/2018
Category: International business
ISBN: 9781522562863