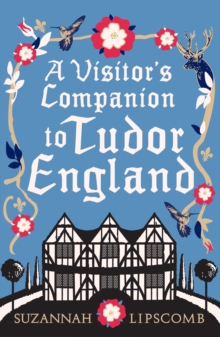 A Visitor's Companion to Tudor England
Hardback
Description
For the armchair traveller or those looking for inspiration for a day out, The Visitor's Companion to Tudor England takes you to palaces, castles, theatres and abbeys to uncover the stories behind Tudor England.
Susannah Lipscomb visits over fifty historic Tudor sights, from the famous palace at Hampton Court where dangerous court intrigue was rife, to less well-known houses, such as Anne Boleyn's childhood home at Hever Castle or Tutbury Castle where Mary Queen of Scots was imprisoned.
In the corridors of power and the courtyards of country houses we meet the passionate but tragic Kateryn Parr, Henry VIII's last wife, Lady Jane Grey the nine-day queen, and hear how Sir Walter Raleigh planned his trip to the New World.
Through the places that defined them, this lively and engaging book reveals the rich history of the Tudors and paints a vivid and captivating picture of what it would have been like to live in Tudor England.
Information
Format: Hardback
Pages: 336 pages
Publisher: Ebury Publishing
Publication Date: 15/03/2012
Category: British & Irish history
ISBN: 9780091944841
Other Formats
Paperback from £7.79
EPUB from £3.99
Free Home Delivery
on all orders
Pick up orders
from local bookshops
Reviews
Showing 1 - 1 of 1 reviews.
Review by TPauSilver
16/06/2015
This is a bit of a weird one because I really struggled to work out who this book was meant for. It's a kind of guide book to Tudor places with back story. Let me give you the possibilities for who I thought might like this book: Someone who wants to visit a lot of Tudor places and view a lot of Tudor artifacts: If this is you then there are many places you could visit in here and most entries include a list of the objects of interest you might find at any given location. However, the entries also include a lot about the Tudor significance of that place in some quite basic detail and this might be boring for you if you're the kind of person who'll commit to traveling around the UK to see Tudor carvings as I'd think you'll know it already. Someone who can't travel to Tudor places but wants to know about them: You'd probably be most disappointed by this book. It lists the things in the places but it almost entirely lacking in illustration and the ones that are there are small and not very detailed. There's not much point in knowing where you can see portraits of Henry VIII if you can't actually go and see them so you might want to invest in something with more illustrations. Someone who wants to learn more about the Tudors: That's me! The book is informative and has a strength in that it's format (telling the history of places) means stories are sometimes re-told which is good to aid retention to memory. The weakness is that the places are arranged geographically so it becomes very hard to hold the stories in any kind of chronological order and assemble a coherent overview. There's also a lot of names and dates which, yeah, history but it makes it a little dry. Also, occasional long sections about how you can see such a person's badge carved into the wall under the second buttock of the third angel under the fifth window of the...and I really couldn't care less. So, yeah, I'm not sure which of those people it was meant to be sold to and it does have some strengths for all of them (an overall strength is that the writing is very clear. Would be interested in reading other books by the author that don't have such a weird format) but isn't great for any of them. Make of that what you will.