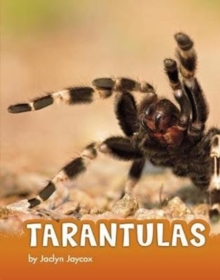 TARANTULAS
Paperback
Part of the ANIMALS series
Description
Tarantulas are very long-lived with females notching up 30years or more in the wild.
They have a leg span the size of alarge dinner plate but are quite docile.
If attacked,tarantulas defend themselves by throwing needle like hairsfrom their abdomens at their attackers.Learn how they ambush small prey at night and much morewith this introductory young/reluctant readers newpaperback.
Information
Format: Paperback
Pages: 32 pages
Publisher: ROUNDHOUSE PUBLISHING GROUP
Publication Date: 01/07/2020
ISBN: 9781977117991
Other Formats
CD / Album from £11.59
Vinyl / 12" Album from £14.99
Paperback from £3.69
Paperback / softback from £6.69
EPUB from £1.50
Hardback from £8.05
Blu-ray from £17.25