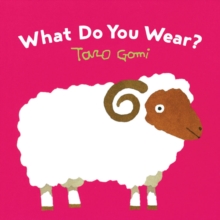 What Do You Wear?
Board book
Description
When it comes to getting toddlers dressed, the struggle is real.
Enter: Taro Gomi! The bestselling author/illustrator offers a creative and colourful look at animals, reimagining their fur, feathers and fins as clothes!
A sheep wears a fluffy jacket, a zebra sports striped PJs, a snake is snug in a sock and a penguin looks dapper in a classic suit.
Young children will be amused by the spirited take on animals and they'll very likely be convinced that getting dressed is best!
Information
Format: Board book
Pages: 20 pages
Publisher: Chronicle Books
Publication Date: 01/01/2017
Category: Baby books
ISBN: 9781452150284