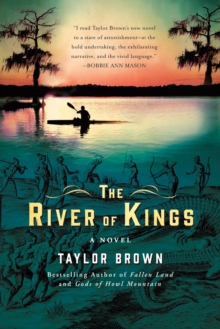 The River of Kings
Paperback / softback
Description
In The River of Kings, award-winning author Taylor Brown artfully weaves three narrative strands - two brothers' journey, their father's past, and the dramatic history of an ancient river's earliest people - to evoke a legendary place and its powerful hold on the human imagination. Brothers Hunter and Lawton Loggins set off to kayak Georgia's Altamaha River bearing their father's ashes toward the sea.
Hunter is a college student, Lawton a Navy SEAL on leave; both young men were raised by an angry, enigmatic shrimper who loved the river, and whose death remains a mystery that his sons hope to resolve.
As the brothers proceed downriver, their story is interwoven with that of Jacques Le Moyne, an artist who accompanied the 1564 expedition to found a French settlement at the river's mouth, which began as a search for riches and ended in a bloody confrontation with Spanish conquistadors and native tribes, leaving the fort in ruins and a few survivors fleeing for their lives. Twining past and present in one compelling narrative, and illustrated with drawings that survived the 1564 expedition, The River of Kings is Taylor Brown's second novel: a dramatic and rewarding adventure through history, myth, and the shadows of family secrets.
Information
Format: Paperback / softback
Pages: 336 pages, Includes 3 maps and illustrations throughout
Publisher: St Martin's Press
Publication Date: 04/04/2018
ISBN: 9781250165510