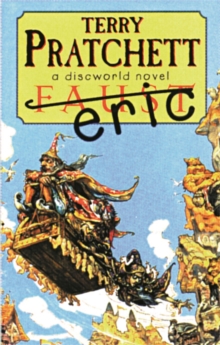 Eric : Discworld: The Unseen University Collection
Paperback
Description
Eric calls up a demon to grant him three wishes - but what he gets is the Discworld's most incompetent wizard...Eric is the Discworld's only demonology hacker.
The trouble is, he's not very good at it. All he wants is the usual three wishes: to be immortal, rule the world and have the most beautiful woman fall madly in love with him.
The usual stuff.But what he gets is Rincewind, the Disc's most incompetent wizard, and Rincewind's Luggage (the world's most dangerous travel accessory) into the bargain.Terry Pratchett's hilarious take on the Faust legend stars many of the Discworld's most popular characters in an outrageous adventure that will leave Eric wishing once more - this time, quite fervently, that he'd never been born.
Information
Format: Paperback
Pages: 160 pages
Publisher: Orion Publishing Co
Publication Date: 01/02/2000
Category: Science fiction
ISBN: 9781857989540
Other Formats
Hardback from £9.85
EPUB from £5.49
Free Home Delivery
on all orders
Pick up orders
from local bookshops
Reviews
Showing 1 - 5 of 10 reviews.
Previous | Next
Review by gercmbyrne
16/06/2015
Terry Pratchett is a god who walks among men. The entire Discworld series is a joy and only a strange mad creature cursed by gods and man would refuse to read and love these books!Not my favoruite Rincewind story but still worth ten of most other options
Review by iftyzaidi
16/06/2015
Featuring Rincewind and lampooning Faust, this is packed with jokes. The plot moves along at a fair clip and is engaging. Sadly the book itself is rather short.
Review by eddy79
16/06/2015
A bit of a light runaround adventure for Rincewind, and has nowhere near the depth of other Discworld novels. Remided me very much of the first one, "The Colour Of Magic". Some very good gags though.
Review by comfypants
16/06/2015
A cute, short book. It starts off very strong - with Rincewind summoned, mistaken for a demon, and forced to grant the summoner three wishes - but doesn't really go anywhere interesting. It's a nice little diversion from the usual end-of-the-world formula of Discworld books, though.
Review by ravenwood0001
16/06/2015
You were worried that we were never going to see Rincewind again, weren't you? That's okay, so was I. He's not out of trouble though. Never, that would be unlike Rincewind. This time he's called from the dungeon dimension by the Discworld's first hacker demonologist, Eric. He is a teenager with his acne and dreams of adoration and power--provided that everything continues to work properly. Of course, they will not, but kids can have their dreams--until they end up in Hell with the King of the Demon's on their tail. Hell, they find is rather unlike what they had expected. Will Eric make it back home to relax and put to bed his childish dreams of ruling the world consequence free? Will Rincewind manage to get out?