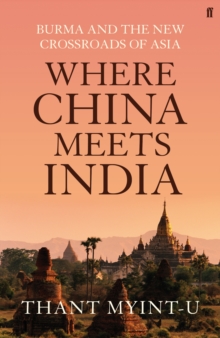 Where China Meets India : Burma and the New Crossroads of Asia
Hardback
Description
From their very beginnings, the civilizations of China and India have been walled off from each other, not only by the towering summits of the Himalayas, but also by the vast and impenetrable jungle, hostile tribes, and remote inland kingdoms that once stretched a thousand miles from Calcutta across Burma to the upper Yangtze River.
In the next few years this last great frontier will likely vanish - forests cut down, dirt roads replaced by superhighways, insurgencies ended - leaving China and India exposed to each other as never before.
This basic shift in geography is as profound as the opening of the Suez Canal.
What will this change mean? Thant Myint-U is in a unique position to know. Over the past few years he has travelled extensively across this vast territory.
In a region of long-forgotten kingdoms and modern-day wars, high-speed trains and gleaming new shopping malls have now come within striking distance of the last remaining forests and impoverished mountain communities. And he has pondered the new strategic centrality of Burma, the country of his ancestry, where Asia's two rising giant powers - China and India - appear to be vying for supremacy. Part travelogue, part history, part investigation, "Where China Meets India" takes us across the fast-changing Asian frontier, giving us a masterful account of the region's long and rich history and its sudden significance for the rest of the world.
Information
Format: Hardback
Pages: 384 pages
Publisher: Faber & Faber
Publication Date: 01/08/2011
Category: Asian history
ISBN: 9780571239634
Other Formats
Paperback from £8.65
EPUB from £7.19
Free Home Delivery
on all orders
Pick up orders
from local bookshops
Reviews
Showing 1 - 1 of 1 reviews.
Review by jcbrunner
16/06/2015
There is surprisingly little about both Burma and the supposed meeting of India and China in this book. This is not an introduction to the country but more a stream of consciousness account of a new great game between China and India.The interest in Burma is much greater from the Chinese side. India doesn't seem to particularly care and has enough poor parts of its own to care for. China's interest in Burma seems triggered more in securing transportation access from the Indian ocean to Yunnan and the ability to exploit Burmese resources than to improve the lives of the Burmese people. It just happens that both China's and India's provinces bordering on Burma are very poor themselves and also filled with ethnic strife. It is unlikely to see such a coalition of hillbillies succeed. If Burma is to emerge out of its misery, instead of looking at its two giant neighbors, it might have a more promising look at its similarly sized neighbor Thailand - which is not covered in this book.Part travelogue, part history, the book suffers from the unstructured, touristic discovery mode of its author. The Burmese themselves are also not actors in this "great game" (neither are any Westerners). It is the author's view that China and India will develop and carve up Burma on their own terms. Given India's rather lethargic approach, this means it falls to China which is only interested in business. This doesn't bode well for Burma's democratic ambitions and economic development.