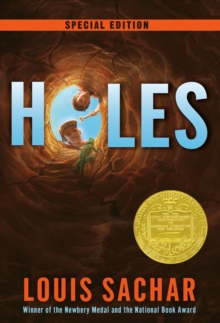 Information
Format:
Publisher:
Publication Date: 01/05/2000
Category: Humamities
ISBN: 9780440414803
Free Home Delivery
on all orders
Pick up orders
from local bookshops
Reviews
Showing 1 - 5 of 115 reviews.
Previous | Next
Review by bookworm12
16/06/2015
Stanley Yelnats is a teenager who's wrongly convicted of stealing a pair of sneakers. He is sent off to dig holes in a correctional facility. Once he arrives he meets a bunch of misfit boys and a vicious warden. Sacher's Newbery-award-winning book weaves one boy's story in with a much larger tale of greed, racism, outlaws and curses. It's also a great story about friendship and the odd places you sometimes find it. The book is well-written and fun to read. You know it's a great YA book when you learn something, have great discussable issues and you actually enjoyed reading it
Review by alcrivello
16/06/2015
Sent to a camp for troubled youth, Stanley learns more than he anticipates about friendship, loyalty, and how to dig holes.
Review by fyrefly98
16/06/2015
Summary: It's Stanley Yelnats' first time going to camp - but Camp Green Lake isn't your ordinary kind of camp. For starters, there is no lake, nothing is green, and the only camp activity is digging holes... and each camper must dig one 5'x5' hole, every day, in the blistering Texas sun. Stanley's not even really supposed to be there - he's innocent of the crime which got him sent to Camp Greenlake - but now he'll have to find a way to survive, just like everyone else. But he pretty quickly comes to realize that there's something more to all the digging than just punishment... but what is the warden really looking for?Review: This book was definitely cute, and certainly put a smile on my face. I was expecting a more straightforward (and less magical-realism-filled) story than it actually was. (Which, in hindsight, was a silly expectation, given the wackiness of Sachar's Sideways Stories from Wayside School books, which I absolutely loved back in the day.) So I was pleasantly surprised with the interweaving of Stanley's story with the stories of his great-grandfather and a wild-west outlaw, as well as by the various bizarre-yet-fitting flourishes throughout. I was also impressed that Holes managed to bring up some pretty serious subjects, but never felt dark, or like it was being pointedly provocative. On the flip-side, though, I thought that all of the historical stories made the outcome of Stanley's quest pretty easy to predict, although that might just be because I'm a jaded grown-up.Overall, this was a quick, fun read, good for a light distraction, but not something that's likely to stay with me. While I enjoyed this book, and can certainly understand why it won the awards that it did, it didn't quite blow me away. However, I think that's mostly due to my mismatch with the target audience - mid-grade books (that don't have the force of nostalgia on their side) rarely manage to knock my socks off, but I can definitely see kids of both sexes (but especially boys) devouring this book. 3.5 out of 5 stars.Recommendation: Definitely recommended for the mid-grade readers in your life, and as a fun diversion for grown-ups as well.
Review by lhunt314
16/06/2015
An entertaining story that's fun to read, but the mystery doesn't really add up. Could have been pulled together better at the end.
Review by bibliophile26
16/06/2015
This book won the Newbery in 2000. Stanley Yelnats is falsely convicted of theft and goes to a detention camp called Camp Green Lake where the boys are required to dig a five foot deep hole everyday. Interspersed in the plot are the stories of Stanley's ancesters and the history of Camp Green Lake. A quick and captivating read.