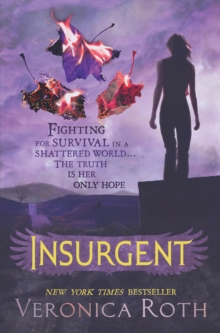 Insurgent
Paperback
Part of the Divergent series
Description
Fighting for survival in a shattered world... the truth is her only hope. The thrillingly dark sequel to No. 1 New York Times bestseller, DIVERGENT. I have done bad things. I can't take them back, and they are part of who I am. Tris has survived a brutal attack on her former home and family.
But she has paid a terrible price. Wracked by grief and guilt, she becomes ever more reckless as she struggles to accept her new future. Yet if Tris wants to uncover the truth about her world, she must be stronger than ever... because more shocking choices and sacrifices lie ahead.
Information
Format: Paperback
Pages: 576 pages
Publisher: HarperCollins Publishers
Publication Date: 01/05/2012
ISBN: 9780007442928
Other Formats
Paperback from £7.15
EPUB from £3.99
eAudiobook MP3 from £10.39
Free Home Delivery
on all orders
Pick up orders
from local bookshops
Reviews
Showing 1 - 5 of 6 reviews.
Previous | Next
Review by AHS-Wolfy
16/06/2015
I'm glad I picked this one up straight away after finishing off Divergent as it throws you straight back into the action with no reminder of what has gone on previously. The reason behind the attack becomes more clear although the whole truth is not revealed until the conclusion of this book. The story is still an action extravaganza but I felt less invested in the characters this time around and at times they seem like wholly different people than those from the first book. That said, it's still very readable and the pages fly by as the story unfolds and I did get my wish to learn more of other factions and how they go about life in their world. The final reveal also offers further expansion for the impending conclusion to the trilogyI do feel this one suffers a little from second-book syndrome and could have been a little tighter given a bit more care and attention. Probably rushed to capitalise on the success of the first. Still a worthwhile read but only if you've read the first and one where I'll be happy to pick up the concluding part of the story when book 3 is released.
Review by pyromorphite
16/06/2015
I would really like to give this book 5 stars, and the plot certainly deserves that, but Insurgent could really have done with one more edit before it was published. Overall the story is very good, but I did find myself shouting at the narrative on several occasions, as well as at some of the characters. I had to read some passages several times before I understood what Roth was trying to say, and that's not good. The way she ended it was fantastic, though, I'll give her that. <br/><br/>Also, 'The Erudite all wear glasses because THEY CLEVER' <-- This was probably my biggest problem with this book. It's ridiculous.<br/><br/>Still, excited for #3 and miffed I have to wait an ENTIRE YEAR for it. I believe some fan-art may be in order.<br/><br/>I LOVE URIAH.
Review by jessicariddoch
16/06/2015
Another brilliant bookThis is a teen book, a second to the excelent divergent by the same author. My only complaint would be that this is not a stand alone book, it should only be read as part of the series as the world is not well explained. The characters however have stood up to a further story and I am looking ofrward to reading the third in this series.
Review by wyvernfriend
16/06/2015
Definitely a bridging novel, this one deals with Tris uncovering the truth about her world and the people in it and the plots behind things. It's interesting and quite readable and I did want to read the next book immediately.
Review by katie1802
16/06/2015
*Exhales Slowly*<br/><br/>My emotions are running amok on this one.<br/>On one hand, it was exciting, relatively fast-paced, and definitely had me gripped in anticipation of the next revelation to come at me like a steamroller.<br/>So yeah, I liked this sequel a lot.<br/><br/>But, oh man, I'm not here for the character developments. I liked that the relationship between Tris and Tobias wasn't like, the single most important thing going on in the first book. Now, it's seriously heavy handed and overdone. I'm sorry, but if you guys are having that many problems that seem to have no solution or compromise, just break-up? Or better yet, maybe Roth should stop pulling issues out of thin air. One minute, they're sucking each others faces, and the next, it's all ~moody glares~ and sidelong glances and "WAAHHH YOU DON'T TRUST ME". Give me a fucking break. I guess I just don't see the point in their relationship?<br/><br/>I won't judge the continuity errors too hard because Roth has acknowledged them and that would just make me an ass. So, I'll stay quiet on that front. Although I was internally despairing as I read the book.<br/><br/>I'm not sure how I felt about Tris' guilt over shooting Will. I mean, sure, you don't get over crap like that overnight. But the whole "I can't hold a gun" thing got old and annoying fast. It just seemed convenient so that Roth could put -oh-so-brave- Tris in yet another life threatening situation that she would miraculously come out of unscathed. Bleh.<br/><br/>And <i>what</i> is with all of those serums? Truth serum, simulation serum, death serum. Crazy right?! It's almost as if Roth doesn't have to come up with any real explanations, like she can conveniently and randomly mention some serum or piece of faction technology that does what she needs it to do to get the story somewhere! Oh, wait....<br/><br/>Ugh.<br/><br/>Tris needs to lay the fuck off Peter. I get it, he stabbed Edward in the eye to get ahead, tried to kill Tris and harassed her. But I would only hold him up as main asshole #1 if we weren't reading about a world in which people commit violent acts as a supposed sign of bravery. Tris has done some bad stuff, and openly discussed her complete lack of empathy. So I can't really sympathise with her hate-on for Peter. Sorry. Oh yeah, why does wanting to owe no one anything, especially your life, make you a bad person? This world is the epitome of "kill or be killed". So the dude is looking out for himself? Big whoop. Tris is a selfish asshole, fully admitted, but apparently she can judge Peter. Well alrighty then.<br/><br/>*deep breath*<br/><br/><br/>I think many more things bothered me while I was reading but I'm a few days removed so I can't list them all now. Rest assured, there's more. <br/>I should note that I'm still majorly peeved at the lack of world building. It's glaringly obvious that Roth is saving the background as a major reveal for the final book, but leaving us hanging for the first two, like, "no guys, I swear it'll be good, just wait until I tell you!". <br/><br/>NO.<br/><br/>You can't withhold that kind of information if you can't carry your first two books without it. At the moment, the story world feels purposeless and confusing. I actually have to stop and remind myself, "okay, what's the point again?" And even then I don't bloody well know. <br/><br/>It better be good or I'll be really annoyed.<br/><br/><br/><br/><br/><br/>I swear I liked it guys, really.<br/><br/><br/>Oops.