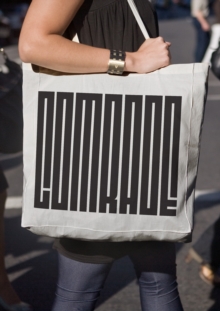 Verso Tote Bag
Other merchandise
Description
Calling all comrades! In our 50th year we are delighted to bring you this Verso canvas bag-big enough to carry around Lefebvre's 900-page Critique of Everyday Life, and sturdy enough to stash a milkshake. "The term comrade indicates a set of expectations for action toward a common goal.
It highlights the sameness of those on the same side-no matter their differences, comrades stand together.
You share enough of a common ideology, enough of a commitment to common principles and goals, to do more than one-off actions.
Together you can fight the long fight." -taken from Comrade: An Essay on Political Belonging by Jodi Dean. On one side is the word COMRADE in elongated black type and on the other side is the Verso logo in black type in the bottom corner.
We have produced these bags as ethically as possible, prioritising sustainable manufacturing and fair labour conditions (see below for more details, including the full specification). Beautifully designed, hardy and designed to last, we hope you love these bags as much as we do!
Information
Format:Other merchandise
Publisher:Verso Books
Publication Date:28/09/2020
Category:
ISBN:9781839761546
Also by Verso Books