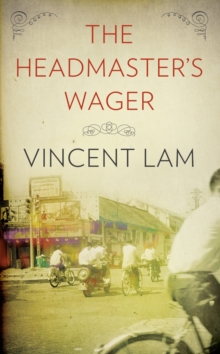 The Headmaster's Wager
Hardback
Description
From internationally acclaimed and bestselling author Vincent Lam comes a superbly crafted, highly suspenseful, and deeply affecting novel set against the turmoil of the Vietnam War.Percival Chen is the headmaster of the most respected English school in Saigon.
He is also a bon vivant, a compulsive gambler and an incorrigible womanizer.
Well accustomed to bribing government officials, he is quick to spot the business opportunities rife in a divided country.
He devotedly ignores all news of conflict, choosing instead to read the faces of his opponents at high-stakes mahjong tables.But when his only son gets in trouble with the Vietnamese authorities, Percival is forced to send him away.
In the loneliness that follows, Percival finds solace in Jacqueline, a beautiful woman of mixed French and Vietnamese heritage, and Laing Jai, a son born to them on the eve of the Tet offensive.
Percival's new-found happiness is precarious, and as the complexities of war encroach further and further into his world.Blessed with intriguingly flawed characters moving through a richly drawn historical and physical landscape, The Headmaster's Wager is a riveting story of love, betrayal and sacrifice.
Information
Format: Hardback
Pages: 432 pages
Publisher: HarperCollins Publishers
Publication Date: 01/06/2012
ISBN: 9780007263820
Other Formats
Paperback from £7.15
EPUB from £3.99
Free Home Delivery
on all orders
Pick up orders
from local bookshops
Reviews
Showing 1 - 1 of 1 reviews.
Review by Smiler69
16/06/2015
"From then on, Percival took the hoard of metal out of the safe at night and slept with it under his mattress. This required two trips up the stairs, lugging one valise each time. He kept the pistol under his pillow. Two weeks after the meeting in the hut, the night before an ancestor worship day, Percival dreamt of his father. It was an old dream from his childhood, one of flying. They soared high over a cold, jagged peak. It was the Gold Mountain for which Chen Kai had abandoned his home, a mass of sharp glittering angles and dagger crags of lustrous wealth. Percival congratulated his father on his success, but bragged that he himself would become yet more wealthy. Even as Chen Kai nodded with approval, saying that a son must surpass the father, Percival began to fall from the sky. His power of flight was gone. He hurtled towards the ground, calling out in terror to his father, but falling alone to be impaled by gold shards." — Chapter 7"The big Peugeot floated through the streets, and Percival reflected on his luck at winning it back. The Americans were close to giving them the special certification, Mak had recently reported, and good luck came in threes. The Sun Wah Hotel was just a few blocks away. The proceeds of the money circle sat in an envelope next to Percival. It was due at the Teochow Clan Association by the end of the next day. In the glancing headlights, a girl's smile flashed, plucked out of darkness. Others walked nearby. Through his fluid cognac haze, he saw their light steps, their slender thighs quick in darkness. If nothing else, this war had brought miniskirts to Saigon". — Chapter 9
This is one of those books that connected with me on such a deep level, that it is difficult for me to explain why I loved it so much. It is not by any means a happy story with likeable characters. In fact, it takes place at a time and place plagued by bitter conflict and brutality: Vietnam during the 60s and 70s. The novel's protagonist is a deeply flawed man who prefers to hold on to his old, outdated mode of thinking and his unrealistic ideals rather than allowing even a glimpse of reality to sink in, so that I was sometimes tempted to shake him by the neck to snap him out of his stupor. He has the arrogance to believe he is the master of the little world he inhabits, while willingly ignoring the forces that have the power to take it all away. He is a man who can love deeply, but who's attempts at filling a great void might impel him to quite literally gamble everything away. Yet there is also charm here, with glimpses of a beautiful place; Vincent Lam paints sceneries with his words that are so vivid, I sometimes had the impression I was watching it all happen before my eyes. And not least of all, there is the presence of a woman who beguiles us, who cannot do otherwise than make the reader fall a little bit in love with her.Percival Chen would probably define himself first and foremost by his Chinese heritage, which identity informs his every decision. He is also a businessman, a father, a gambler and womanizer, and the owner of the Percival Chen English Academy, located in Cholon, Vietnam. Born in China, he has always fervently held on to his Chinese values and culture, which he has scrupulously handed down to his son, Dai Jai. Percival's own father established what became a thriving business in Cholon, and built a large and well appointed residence, Chen Hap Sing, which also accommodated storerooms for the rice he made his fortune on. Now in Percival's hands, Chen Hap Sing houses his English Academy, which is run with the help of one of the teachers he employs, his friend Mak. Through a network of mysterious contacts Mak maintains and the discreet bribes he hands out to the authorities, Mak is instrumental in ensuring that the academy keeps it's elite status, making it a highly profitable enterprise.The story takes off in 1966, when an official new directive is given that every school must include Vietnamese language in it's curriculum. The Vietnam war is raging and tensions are high, and Percival's refusal to make this concession will have far-reaching consequence. When Dai Jai, wanting to make his father proud gets in trouble with the local authorities and is put in detention, Percival rightfully fears for his son's life when it is suspected he is being kept at the National Police Headquarters, where prisoners are routinely tortured and put to death. As usual relying on Mak and his connections, Percival is willing to pay any price to free his son. An anonymous contact is found; he may be able to rescue the young man, a nearly impossible mission, but demands an extortionary fee. With no other options and time being of essence Percival empties his coffers and borrows heavily against the value of his property to ensure Dai Jai's safety. But following his rescue, the authorities are still hell-bent on making an example of Dai Jai, and Percival sees no other choice than to send him away, once again having to rely on highly costly contacts and incurring yet more debt. Dai Jai is to go to China, where Percival is absolutely certain he belongs, against his ex-wife's better judgment. He has always focused solely on making money in order to finance his taste for gambling and whores, choosing to ignore the political turmoil that surrounds him. Therefore, Percival has no notion that in the re-baptized People's Republic of China, sons of businessmen and landowners are prime targets for punishing measures, once again firmly holding on to his romanticized memory of a homeland he left long ago and where he likes to think he will join Dai Jai eventually. With his son gone and Mak taking over the administration of the school, the lure of gambling as a means to pay off his debts proves impossible to resist, and before long Percival is spending all his spare time playing high-stakes mah-jong tournaments, where alcohol and beautiful women add fuel to his obsession. When he first sees the exquisite Jacqueline at a casino, he is willing to risk all his gains for one night of pleasure with the splendid creature, never imagining for a moment the consequences such an encounter will have for him and everyone he holds dearest. All the while, as the war gets fiercer day by day and the fall of Saigon becomes imminent, Percival is far from suspecting the harsh realities he will eventually be forced to face.Might there be hope for a sequel? Probably unlikely, but I will certainly look forward to Vincent Lam's next literary effort.