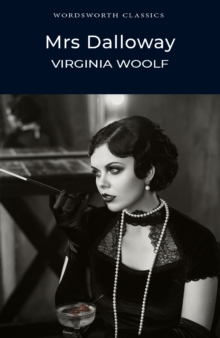 Description
With an Introduction and Notes by Merry M. Pawlowski, Professor and Chair, Department of English, California State University,Bakersfield. Virginia Woolf's singular technique in Mrs Dalloway heralds a break with the traditional novel form and reflects a genuine humanity and a concern with the experiences that both enrich and stultify existence. Society hostess, Clarissa Dalloway is giving a party.
Her thoughts and sensations on that one day, and the interior monologues of others whose lives are interwoven with hers gradually reveal the characters of the central protagonists.
Clarissa's life is touched by tragedy as the events in her day run parallel to those of Septimus Warren Smith, whose madness escalates as his life draws toward inevitable suicide.
Information
Format: Paperback
Pages: 176 pages
Publisher: Wordsworth Editions Ltd
Publication Date: 01/03/1996
ISBN: 9781853261916
Other Formats
Paperback from £2.50
Hardback from £6.65
CD-Audio from £15.99
EPUB from £0.99
PDF from £1.94
Free Home Delivery
on all orders
Pick up orders
from local bookshops
Reviews
Showing 1 - 5 of 7 reviews.
Previous | Next
Review by NicoleHC
16/06/2015
It's okay. Worth reading. Just to say you've read it.
Review by littlebookworm
16/06/2015
I'd love to study this novel. There is so much depth to it. Virginia Woolf delves deep into the human psyche, interconnecting all of her characters in meaningful ways. The novel may only take place over a day, but at the same time it expresses the lives of all the characters and just how they got there. And somehow, the ending swept me away; I doubt it would a normal person, but I <i>felt</i> it. Essentially nothing happens throughout the novel, so if you're looking for that, stay away, but for someone like me who loves atmosphere, humanity, strong themes, this is a must.
Review by Pummzie
16/06/2015
If you are fascinated by internal monologues (indeed, if you spend half of your own life nattering away with yourself, as I do), you will feel very much at home reading Mrs Dalloway. This book is light on plot and light on dialogue. BUT what it has in spades, is a sense of London after the end of the First World War and a faithful rendering of how our minds tend to wander hither and thither -how we rarely complete our thoughts and are often unsure of how we feel about a person or a situation from one moment to the next. Yes, it is an extended stream of consciousness - jumping in and out of the heads of various characters, some of which are connected by a fairly loose thread. For some this would be maddening, for me it was wonderful!In case you are unfamiliar with its premise, the novel covers a single day on which Clarissa Dalloway is having a party. But the party is simply a structural device. What matters is what we learn of the leftovers of war, of the reflections of age, the follies of youth, of meanness of spirit and the pursuit of happiness. i urge you to at least give it a go.
Review by OscarWilde87
16/06/2015
I have to admit I don't really know about Mrs. Dalloway... I have read it just once and, well, I just was not touched by the subject. However, the style of narration was really good but sometimes distracting.Probably I will have to take some time, read it again and probably I can enjoy it more on the second read... Only three stars.
Review by soylentgreen23
16/06/2015
I haven't read Joyce's 'Ulysses' but I get the feeling that it spoiled a lot of modern literature for me; maybe it was a necessary evil to get us where we are today, but it also led to the creation of a lot of difficult, unenjoyable works, such as 'Mrs Dalloway'.No, I didn't enjoy this novel, though I could see why people would think it a classic of the modernist years. The character of Septimus Smith was compelling, with his struggle against madness and war trauma; if he had been the main character I would have made more of the book. It has been left to the likes of Pat Barker to flesh out his tale. Mrs Dalloway herself is hardly of any interest, and I am rather glad that so much else went on in this book.
Also in the Wordsworth Classics series | View all