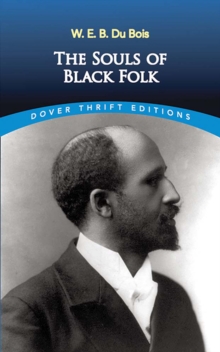 The Souls of Black Folk
Paperback
Information
Format: Paperback
Pages: 176 pages
Publisher: Dover Publications Inc.
Publication Date: 20/05/1994
Category: Anthologies (non-poetry)
ISBN: 9780486280417
Other Formats
Paperback from £5.99
PDF from £1.94
EPUB from £1.94
Hardback from £23.00
eAudiobook MP3 from £14.24
Free Home Delivery
on all orders
Pick up orders
from local bookshops
Reviews
Showing 1 - 5 of 6 reviews.
Previous | Next
Review by ostrom
16/06/2015
One of the great enduring concepts: "double-consciousness."
Review by doowatt34
16/06/2015
You must experience this book by reading it for the first time. I don't know how I left college without ever reading essential DuBois. The book is basically a snap shot of the historical events he witnessed, his observation and relations with people and commentary. The writing style AWESOME, complicated, and balanced, all at the same time. What I can appreciate most is that the book is as much a guide on credit, debt, personal financial loss and charity, as it is on social and political science.Shortly after the war the freedmen contributed $750,000 to their educational betterment, purchased land, started various business enterprises, and saved with Freedmen's Bureau Bank. This showed incredible thrift on their part, a kind of thrift that can be admired even today.
Review by kaygsapp
16/06/2015
Experience the last two centuries in the lives of Black Americans...feel their plight for more understanding.....to read this is to know why.!
Review by Paulagraph
16/06/2015
I appreciate DuBois's classic study of race as an historical document, and at times even as a piece of literature. I particularly value his depiction of the political, social and material conditions in the South immediately following the Emancipation Proclamation and the end of the Civil War. Nevertheless, I question some of his proposals and conclusions. Although his views may have been radical in 1903, many of them now sound paternalistic and outdated. Perhaps that, in and of itself, is a sign of progress. <br/>The Souls of Black Folk, of course, is didactic. It's also a polemic, for DuBois's stated aims are to both instruct and convince his audience. Many indications in his prose suggest that he conceived his audience to be "the best kind" of white people, and more Northern, I think, than Southern. I don't think his arguments are directed toward "the best kind" of Negro. I use these terms because they are his, and because this sorting of people, both black and white, into categories of "best" and "worst," is one of the things that most irritates me about DuBois's thinking. He touts The Talented Tenth (although he may not have coined this phrase, it became intimately associated with his ideas) as worthy candidates for a classical liberal education and as the source of leadership for "their race." He admits the need for a sort of benevolent guardianship (by the Talented Tenth and enlightened whites) over the masses of unschooled and largely impoverished black folks in the South. He says, "the paths of peace winding between honest toil and dignified manhood call for the guidance of skilled thinkers, the loving, reverent comradeship between the black lowly and the black men emancipated by training and culture." <br/>Besides the Talented Tenth, two other concepts are integral to Du Bois's thinking, that of The Veil, which is both a physical and social demarcation of difference, and double-consciousness, defined as "a peculiar sensation, . . . this sense of always looking at one's self through the eyes of others . . . . one ever feels his two-ness,--an American, a Negro." <br/>Although he argues against Booker T. Washington's preaching of abandonment of political and social goals in order to focus solely on material gains for blacks, Du Bois himself proposes that blacks not fit to benefit from the education he proposes for The Talented Tenth should indeed settle for training in a trade and much more limited aspirations.(Apparently, Du Bois modified these views somewhat later in his life.) On the other hand, Du Bois is often forceful in his defense of equal rights for all blacks, for example, when he states, "Negroes must insist continually, in season and out of season, that voting is necessary to modern manhood, that color discrimination is barbarism, and that black boys need education as well as white boys." <br/>Although many of the social conditions that Du Bois references have been ameliorated over time, some of his observations sound uncomfortably current today, such as the following: "the white folk say it [the county prison:] is ever full of black criminals,--the black folks say that only colored boys are ever sent to jail, and they not because they are guilty, but because the State needs criminals to eke out its income by their forced labor." <br/>
Review by revslick
16/06/2015
Everything one could ask out of older, classic Science Fiction - creative (trippy scifi), deep (makes you think), and intentional (story teaches a moral and/or asks us to look at our humanity). Another side note is if Faulker would have written science fiction, he would have written like Sturgeon. Sturgeon slices a mean literary tale of an exploration into the evolution of our ethics. He does this through the coming together of several people with extrasensory powers that eventually merge into the gestalt, a group consciousness. What's interesting is we are just now seeing and hearing such discussions among the scientific and mystic communities of our evolutionary movement toward a systemic consciousness. If you're willing to let literature take you places, then pick up More Than Human.
Also in the Dover Thrift Editions series | View all