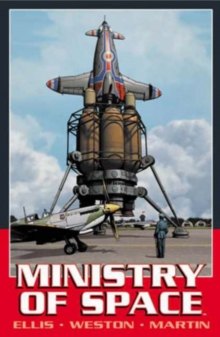 Ministry of Space
Paperback
Description
From creative giants Warren Ellis (Transmetroplitan) and Chris Weston (The Filth) comes an alternative history painted in red, white and blue!
In the death throes of the Second World War, the British capture the cream of Nazi rocket science and create a new British Empire where it seems the sun never sets.
Instead the sky is lit by the rockets' red glare from a fleet of spaceships bound for the moon and beyond.
But who funds this epic endeavour? The truth is the road to space is paved with a secret dark enough to bring the empire to its knees!
This searing, satirical and beautifully drawn look at empire building exposes the horrors that have sometimes been carried out in the name of King & Country!
Information
Format: Paperback
Pages: 96 pages, colour comic strip
Publisher: Titan Books Ltd
Publication Date: 25/03/2005
Category: Comics and Graphic Novels
ISBN: 9781840239249
Free Home Delivery
on all orders
Pick up orders
from local bookshops
Reviews
Showing 1 - 3 of 3 reviews.
Review by RobertDay
16/06/2015
Rule, Britannia?This graphic novel starts with the bombing of the German WW2 rocket research station at Peenemunde by 617 Squadron, RAF (the 'Dam Busters'). Except in this world, there are no German rocket scientists left - they've all been spirited away by a maverick RAF officer so Britain can steal a march on both America and Russia. Britain puts the first satellite into space, the first man into space, the first men on the Moon, the first Lunar base, the first fleet to colonise Mars; whilst on Earth there is peace, prosperity and the Pax Britannica. But the cost? There is a dark secret at the heart of Britain's supremacy.This is a glorious production, with gorgeous 1950s hardware and Good Chaps Doing Their Bit for Queen, Country and Empire. Hurrah!But... but... the dark secret is chillingly possible. Churchill was never afraid to let his sense of morals get in the way of doing what he thought of as the right thing, so the scenario is very possible.One criticism. Having branded the future Britain with one horror, the writers added another - casual racism. I'm unconvinced. To begin with, there's a contradiction because the commission of enquiry that uncovers the dark secret is shown to have a Sikh officer on it. And secondly; blatant racism as shown in a wardroom marked 'Non-white women staff' seems very unlikely. It would almost certainly have been more subtle, such as "Colonial Crew Wardroom".The British Empire had much in common with Rome; once a successful member, an Empire citizen was (in theory) as good as any other. Discrimination was exercised through the medium of class; race was just one element of a wider prejudice. Ellis hints at this but is more ready to view the Empire from the perspective of our modern preoccupations.This isn't to detract from Ellis & Weston's achievement, or to blunt their message. Those of us not brought up in it can no longer appreciate the strange and contradictory messages that the British Empire sent.
Review by Kurt.Rocourt
16/06/2015
An alternate reality story with a great twist of an ending. You don't read it the ending as much as realize the ending. Great book.
Review by cendri
16/06/2015
My tech history person heart absolutely adored this. And the trade-offs presented were interesting. Art was beautiful. It's been a while since I've read something about space history (or rather alternative history) which actually is that mix of hopeful/cynical that I've become about the whole venture.