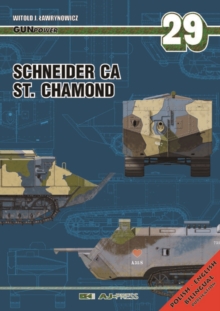 SchneidereCa, St.EChamond
Paperback / softback
Part of the Gun Power series
Description
The monograph tells the story of the French armour beginnings, covering the first and second French tanks ever produced, the Schneider CA and the St.
Chamond, and describes their combat use as well as the development of doctrine use on the battlefields of World War I.
The monograph includes many photos previously un-published, as well as unique colour profile artwork and line drawings. About Gun PowerThis series focuses on the armour, armoured vehicles and artillery.
Every book contains a chapter about the design's history, plenty of drawings in modelling scales, colour plates presenting camouflaging schemes and a modeling chapter.
The part covering the design's development history is illustrated by a large number of photographs.
We are trying to choose interesting photos, which had been earlier unknown or rarely published.
The plans show different variants of the vehicles or guns in several views, all non-standard versions and modifications and depict the details with the highest possible quality.
Specifically for the modellers, the included colour profiles are printed in the same scale.
A separate, comprehensive modelling chapter goes through the models and accessories sets (foto etched parts, tracks, additional sets of personnel, servicing crews etc.) available in the market. The books of this series are fully bilingual (Polish/English).
Information
Format: Paperback / softback
Pages: 136 pages, 122 b/w photos, drawings, 12pp col. profiles
Publisher: AJ-Press, Jarski, Adam
Publication Date: 01/12/2010
Category: European history
ISBN: 9788372371966