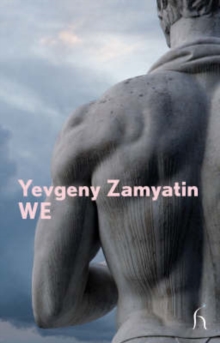 Description
Inside its glass dome the One State is a place of mathematical precision, a community where everything is everyone's and integrity, clarity and unerrring loyalty reign over all.
D-503, Builder of the Integral, is an honest Cipher, ashamed of the hairy hands that link him to a barbaric ancestry. And yet he is tormented by the figure a-1, that impenetrable x, the legacy that makes him lust, imagine, that's given him a soul.
Consumed by his sickness and obsessed with the mysterious I-330 he escapes outside the Wall, to where the humans are wild and the land is green, and plots to overthrow The Benefactor, and return his civilisation to natural chaos.
Only The Operation can return order to the perfect world, and allow reason to win.
Information
Format: Paperback
Pages: 224 pages
Publisher: Hesperus Press Ltd
Publication Date: 10/08/2009
Category: Science fiction
ISBN: 9781843914464
Other Formats
Paperback from £5.99
EPUB from £3.99
Hardback from £46.75
Paperback / softback from £7.89
Free Home Delivery
on all orders
Pick up orders
from local bookshops
Reviews
Showing 1 - 2 of 2 reviews.
Review by olliesmith160
16/06/2015
In a vivid, unified and ultra-socialist landscape Zamyatin plays out his vision of a future which is harrowing, disturbing and immediate. In a world of people who are addressed only as a series of numbers, a revolution is about to happen. This is essential reading for anyone interested in sociological, political or scientific matters. The book was a revelation in its time, banned in its country of origin for many years and proved to be the blueprint for Orwell's 1984.The book is modernist in style and reads incredibly quickly. The story unfolds in a series of cathartic diary entries made by the narrator to his unknown reader. A truly gripping, exciting and essential book.
Review by Michael.Rimmer
16/06/2015
We has left me with general impressions more than with definite ideas - I think I probably need to read it again to get more out of it.

The most striking impression is that of the glass buildings and the green glass-filtered twilight in which the numbers of the One State pass their orderly, centrally controlled lives. The almost complete lack of privacy and unending scrutiny by neighbours, or even passers-by in the street, strikes me as more horrific than the surveillance by Big Brother in Nineteen Eighty-Four

Lots of other images: the Tablet of Hours (smartphones and electronic organisers?); "coitus permits"; the regimented citizens marching in unison along the glass pavements; the massive Art Deco (in my mind) spaceship, The Integral; the glass Wall enclosing the city of the One State and the surrounding jungle, pressed up against it: chaos awaiting its inevitable entry into the ordered system precariously maintained by the Benefactor; the robotic numbers who have undergone the Operation (reminding me somewhat of the Scanners in Scanners Live in Vain from The Rediscovery of Man by Cordwainer Smith).

It took me a while to read this one, not because of any difficulties with the book itself, but because I was simultaneously reading another rather hefty tome. Next time, I think I will concentrate on We and see I get more of Zamyatin's meaning.
Also in the Modern Voices series | View all