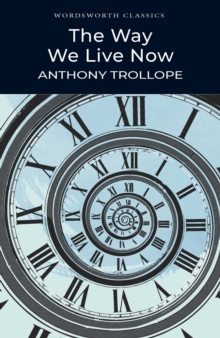 The Way We Live Now
Paperback
Description
With an Introduction and Notes by Peter Merchant. Canterbury Christ Church College. The tough-mindedness of the social satire in and its air of palpable integrity give this novel a special place in Anthony Trollope's Literary career.
Trollope paints a picture as panoramic as his title promises, of the life of 1870s London, the loves of those drawn to and through the city, and the career of Augustus Melmotte.
Melmotte is one of the Victorian novel's greatest and strangest creations, and is an achievement undimmed by the passage of time. Trollope's 'Now' might, in the twenty-first century, look like some distant disenchanted 'Then', but this is still the yesterday which we must understand in order to make proper sense of our today.
Information
Format: Paperback
Pages: 800 pages
Publisher: Wordsworth Editions Ltd
Publication Date: 05/06/1995
ISBN: 9781853262555
Other Formats
Paperback from £7.65
EPUB from £1.07
Paperback / softback from £17.99
Hardback from £20.95
Free Home Delivery
on all orders
Pick up orders
from local bookshops
Reviews
Showing 1 - 5 of 8 reviews.
Previous | Next
Review by alison_jayne
16/06/2015
A great, sweeping yarn that draws you in and is reluctant to let you go. The characters are vivid and memorable, but unlike Dickens they do not drift into caricature. This was my first Trollope novel and I shall certainly be going back for more!
 Most of these Victorian novels are badly in need of an editor, and this one is no exception. It's repetitive, and a bit on the soap opera side. Austenesque in its subject matter, but without the lively banter. Instead, what humor there is is dry; one might find the foolishness of multiple characters entertaining, if it were not for the xenophobic and anti-Semitic tendencies so often found in English literature of this era. Too much is made of its continuing relevance regarding financial misbehavior; it does not redeem the book so much, and in fact it's very much a period piece. The language is formal, stilted, and carefully crafted -- a product of its day.
Review by startingover
16/06/2015
At the heart of this novel is mysterious, charismatic Melmotte, the 'Great Financier'. His origins are unknown, his dealings felt (and, in time, known) to be shady to the point of illegality. The other central character is Felix Carbury, an unpleasant, idle young man who attempts to marry Melmotte's daughter, Marie, for her money. Melmotte, though, wants his only child to marry someone with a title.Felix, his mother's treasure, loves no one. Marie loves him. No one loves Melmotte - he is considered vulgar, and he is universally unpleasant to everyone he knows - including his daughter, whom he beats when she disobeys him, and even goes so far as to forge her signature.The novel revolves around money - the making of it, the losing of it, the marrying for it. Finally Melmotte over-reaches himself: having achieved one of his ambitions of being an MP, he is revealed for the swindler he is, and kills himself. His death is the making of Marie: she has her father's business acumen without his dishonesty. When she decides to marry the American, Fisker, it is on her terms. She is hard-headed but not bitter - sensible in her attitude to money, and to life, now that she's recovered from her infatuation with Felix. Felix, however, remains at the end of the book quite as awful as he was at the beginning, but at least he is packed out of the way in Germany, leaving his mother free to marry Mr Broune. Lady Carbury's and her daughter's marriages are the only genuine love matches in a book dominated by people whose morals have been corrupted by money. [Nov 2004]
Review by dmarsh451
16/06/2015
Such a treat to read. Many characters. Many predicaments. But all brought together so deftly. And I never once got that compensatory urge to pitch the book against a wall in lieu of smacking the whiny little mouths within. This book also explained the recent financial crisis to me as Trollope deftly mapped out the workings of invisible money in many invisible hands.
Review by jmoncton
16/06/2015
Although this book includes the required Victorian love story, <i>The Way We Live Now</i> focuses more on the actions of Augustus Melmotte, a foreign financier who is turning heads of London society, with his amazing wealth and ability to make money. But actually, Melmotte is swindling investors by selling shares in a non-existant railroad company. This is such a timeless classic, not only in the large cast of characters with funny and endearing personality quirks, but also in the relevance this story holds, especially with the recent global financial crisis. Definitely a enduring and enjoyable classic.
Also in the Wordsworth Classics series | View all