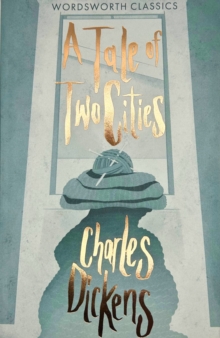 A Tale of Two Cities
Paperback
Description
A Tale of Two Cities (1859), Dickens' greatest historical novel, traces the private lives of a group of people caught up in the cataclysm of the French Revolution and the Terror.
Dickens based his historical detail on Carlyle's great work - The French Revolution. `The best story I have written' was Dickens' own verdict on A Tale of Two Cities, and the reader is unlikely to disagree with this judgement of a story which combines historical fact with the author's unsurpassed genius for poignant tales of human suffering, self-sacrifice, and redemption.
Information
Format: Paperback
Pages: 352 pages
Publisher: Wordsworth Editions Ltd
Publication Date: 01/05/1992
Category: Classic fiction (pre c 1945)
ISBN: 9781853260391
Other Formats
Hardback from £8.35
Paperback from £2.50
CD-Audio from £11.05
Mixed media product from £72.05
EPUB from £0.99
Free Home Delivery
on all orders
Pick up orders
from local bookshops
Reviews
Showing 1 - 5 of 5 reviews.
Review by TerrapinJetta
16/06/2015
The thing is, Dickens waffles on such a lot and in such flowery language that it's quite hard to concentrate when I'm used to sparse sentences Graham Greene style. The story was enjoyable, Lucie's character annoyed me a bit by being so angelic and innocent, but when the story picked up in Paris I couldn't put the book down, seriously.
Review by afderrick
16/06/2015
It was a good book and I'm glad I did read it. The only issues I had with the book were that I found it very difficult to pick up and read and I wasn't emotionally involved with any of the characters. While I really enjoyed reading the story when I had the pages open it again was not something I just felt I couldn't put down. Thus the reason it took me quite an amount of time to finish this book, it was slow going for me. The first half of the book was the worst, the second half and toward the end really started to pick up and I found the end of it to be quite interesting and probably rushed through the last 100 - 150 pages in two days where it took me several days to get to that point. Overall, a good book.
Review by asuico
16/06/2015
Like many other reviewers, I was required to read this during my secondary school days. I was surprised by how much I enjoyed it, and how readable I found Dickens compared to other British authors of "great books" (I'm looking at you, Jane Austen). With my fondness for this classic in mind, I recently reread the book again, and while I still found it enjoyable, I thought the story suffered from the characterization of Lucie Manette. Almost every scene involving the good doctor's daughter has one of her male comrades or family members remarking on her goodness, her beauty, her strength of character, etc. when we almost never actually SEE this goodness and strength--they're just asserted through other characters' thoughts and actions.These traits contrast starkly with those of the dastardly Madame Defarge, but to me the two characters are ironically similar in that just as Madame Defarge is unlikeable for her total cruelty, Lucie is also unlikeable for her total goodness, which is a reader response I'm sure Dickens did not intend to provoke. Sydney Carton was my favorite character when I first read this in high school, and four years later, I'm better able to articulate why: unlike Lucie and Madame Defarge, he is a mix of vice and virtue. He's complex and morally grey. Unlike the other two, he's an actual person.Apart from Lucie's role as a Mary Sue, however, A Tale of Two Cities is a good read. As others have noted, it's rather slow in the beginning, but the thrill and suspense woven into the last quarter of the book makes waiting out the slow build worth it.
Review by Piratenin
16/06/2015
I am currently struggling my way through Great Expectations due to a combination of, in my view, unlikeable characters and the occasional waffle. This did not give me the best first impression of Dickens. However after powering through A Tale of Two Cities I might just give him another chance. Although at times the way the plot was turning was clear, that did not take away any enjoyment. I did on occasion find the French revolutionaries slightly one dimensional and I agree with others that perhaps a contrast between the bloodthirsty revolution and the desire for a new enlightened government and culture would have made a good book better.Overall I found this an enjoyable and easy read. The characters are interesting, although can tend slightly to charicatures of good and evil and the plot, though simple, is beautifully conveyed.
Review by mbmackay
16/06/2015
This is one of Dickens' later books, and also one of his better books. There are all the annoying bits of dickens - the two dimensional characters (e.g. Lucie is ALL good), the characters there for their comic relief (Jerry Cruncher) and the amazing plot twists needed to bring the story to the desired conclusion. But after re-reading all of Dickens in the last year, I am no longer as irritated by these foibles and see the book behind the quibbles. This book is tighter and shorter. There is some good social commentary here, concern for the oppressed and understanding of the causes of the French revolution, along with a stark recognition of the depravity of the bloodbath that followed. I wasn't persuaded by his telling of the planning that went into the initial uprising of 1789 - I think it was more of "the straw that broke the camel" than a coolly plotted attack. But, as a back, it is a fine entertainment. Re-read June 2012.
Also in the Wordsworth Classics series | View all