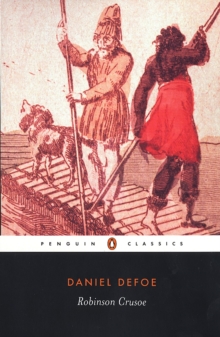 Robinson Crusoe
Paperback
Description
Daniel Defoe's Robinson Crusoe, regarded by many to be first novel in English, is also the original tale of a castaway struggling to survive on a remote desert island.
This Penguin Classics is edited with an introduction and notes by John Richetti.The sole survivor of a shipwreck, Robinson Crusoe is washed up on a desert island.
In his journal he chronicles his daily battle to stay alive, as he conquers isolation, fashions shelter and clothes, enlists the help of a native islander who he names 'Friday', and fights off cannibals and mutineers.
Written in an age of exploration and enterprise, it has been variously interpreted as an embodiment of British imperialist values, as a portrayal of 'natural man', or as a moral fable.
But above all is a brilliant narrative, depicting Crusoe's transformation from terrified survivor to self-sufficient master of an island.
This edition contains a full chronology of Defoe's life and times, explanatory notes, glossary and a critical introduction discussing Robinson Crusoe as a pioneering work of modern psychological realism.Daniel Defoe (1660-1731) had a variety of careers including merchant, soldier, and political pamphleteer.
Over the course of his life Daniel Defoe wrote over two hundred and fifty books on economics, history, biography and crime, but is best remembered for the fiction he produced in late life, which includes Robinson Crusoe (1719), Moll Flanders (1722) and Roxana (1724).
Defoe had a great influence on the development of the English novel and many consider him to be the first true novelist.If you enjoyed Robinson Crusoe, you may like Alexandre Dumas' The Count of Monte Cristo, also available in Penguin Classics.'Robinson Crusoe has a universal appeal, a story that goes right to the core of existence'Simon Armitage
Information
Format: Paperback
Pages: 288 pages
Publisher: Penguin Books Ltd
Publication Date: 27/03/2003
Category: Classic fiction (pre c 1945)
ISBN: 9780141439822
Other Formats
Paperback from £2.50
Hardback from £5.09
EPUB from £0.99
CD-Audio from £8.75
Free Home Delivery
on all orders
Pick up orders
from local bookshops
Reviews
Showing 1 - 5 of 5 reviews.
Review by madspihl
16/06/2015
Read this, expecting to know the story, since it is a tale told all over the world. Was happily surprised to feel the pace of Crusoe's routines, and all the details of everyday life only made the story more believable. Wonderful read. Read Robert P. Marzec's "Enclosure, Colonization, and the Robinson Crusoe syndrome" parallel with Defoe's book - very interesting analysis. Text published in "boundary", 2:29:2, 2002 (Duke Uni. Press).
Review by andyray
16/06/2015
while pursuing my MA in English Lit at the University of Central Florida in 1988-90, they told me the first novel was Pamela by Sterne, 1749. I beleive this 1724 book by DeFoe was the first novel.
Review by Elphaba71
16/06/2015
Robinson Crusoe is claimed to be the first novel written in English, published in 1719, and is a fictional autobiography of Crusoe who is from an average family in England at that time, and spends 28 years stranded on a remote desert island.I found this book really dragged, & it is quite repetitive. Crusoe never really has any exciting adventures until way into the book. For the first quarter or so of the book it is mostly an account of daily life and the difficulties of making ink and paper, learning to make pottery & raising goats etc. It gets some what better when Crusoe rescues Man Friday from some cannibals and their relationship is interesting and compelling. Crusoe is forced to be open minded because he has no one else around except his parrot. He is able to understand the dignity of Friday and look upon him eventually as an equal in some ways although still a servant. Crusoe teaches Friday English & converts him to Christianity. I liked the fact that it questions our relationship with those we feel are beneath us in whatever way.
Review by JHINIE
16/06/2015
I have never read a book like Robinson Crusoe. The ambiance of the book is only enhanced by both the time period it was written in as well as the books significance. Robinson Crusoe is one of the very first novels, and set a benchmark for other books to come. I had my doubts about this book. Upon initial visual judgment, I thought this book would be too long. Knowing when the book was published, I assumed Robinson Crusoe would bore me, as did Wuthering Heights (no offense I love the song. Without the book there wouldn't have been the song). Then I started to actually read the book. It was ok. The storyline at the time seemed all too familiar. Some young fellow ignores his, or her, parent's wishes and goes gallivanting off only to face a series of challenges that eventually lead him/her to some sort of revelation. Than again, one must considered that this was the "original" novel, for which countless stories used as their basis. Also, I wasn't too found of Mr. Crusoe, who seemed a bit too focused on his own dreams. Furthermore, I felt that Robinson Crusoe lacked a great deal of depth. However, the more I progressed, the more I began to see; the hidden meanings, the important ones. Religion, the "human condition"(we were born to be our own destroyer), and justice are a few themes that this novel weaves into its pages. Survival obviously became the centerpiece. I love survival. I'm all for "Man vs. Wild", "Survivor Man", and "Cast Away". Naturally, I found the latter part of the novel very appealing. Seeing Robinson Crusoe survive and persevere would lead me to appreciate the character. He earned my respect. I would love to give you examples of exactly how he earned my respect, but I don't want to ruin the book for you. The call of the wild will always be a part of me, as it became a part of Crusoe. Through the many page of Robinson Crusoe, I really enjoyed it. It wasn't until I finished the book that I realized how great of a milestone this book was. Without a publication date printed on it, I would have taken it as an early 20th century novel. It turns out that this book is much older. However, it manages to present new ideas.
Review by StarofSophia
16/06/2015
Defoe didn't have a clue abut how to write a gripping novel. This is one book where an abridged version would be better than the original. The only problem is, I've never seen a good abridgment done! Most people focus on the part of the story that takes place on the island, but that's only the middle of the book, and leaves out the pirates, other shipwrecks, problems with his family, how he got rich, the wolf attack, the time when he escaped slavery ... etc. That's a lot of cool stuff to leave out, in my opinion. Well, enough about bad abridgments.Rather than use foreshadowing in this book, Defoe outright tells you what is going to happen - again, and again, and again. Almost nothing is left as a surprise when it happens.There is also a large amount of preaching, list making and philosophizing. This is the book where I first ran into the Latin term viz. and Defoe uses it all over the place.I was impressed at his enlightened (for the time period) views on the indigenousness people, and how he didn't think they would go to hell, even though they were cannibals and had never heard of Jesus.All in all, I liked the book, I just wish it had been written about one or two hundred years later.