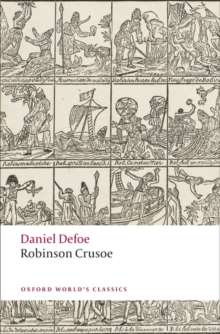 Robinson Crusoe
Paperback
Description
'I made him know his Name should be Friday, which was the Day I sav'd his Life...I likewise taught him to say Master' Robinson Crusoe's seafaring adventures are abruptly ended when he is shipwrecked, the solitary survivor on a deserted island.
He gradually creates a life for himself, building a house, cultivating the land, and making a companion from the native whose life he saves.
Daniel Defoe's enthralling story-telling and imaginatively detailed descriptions have ensured that his fiction masquerading as fact remains one of the most famous stories in English literature. On one level a simple adventure story, the novel also raises profound questions about moral and spiritual values, society, and man's abiding acquisitiveness.
This new edition includes a scintillating Introduction and notes that illuminate the historical context.
ABOUT THE SERIES: For over 100 years Oxford World's Classics has made available the widest range of literature from around the globe. Each affordable volume reflects Oxford's commitment to scholarship, providing the most accurate text plus a wealth of other valuable features, including expert introductions by leading authorities, helpful notes to clarify the text, up-to-date bibliographies for further study, and much more.
Information
Format: Paperback
Pages: 384 pages, one map
Publisher: Oxford University Press
Publication Date: 01/08/2008
Category: Literary studies: c 1500 to c 1800
ISBN: 9780199553976
Other Formats
Paperback from £2.50
Hardback from £5.09
EPUB from £0.99
CD-Audio from £8.75
Free Home Delivery
on all orders
Pick up orders
from local bookshops
Reviews
Showing 1 - 5 of 9 reviews.
Previous | Next
Review by camillahoel
16/06/2015
This is possibly the most mindnumbingly boring book I have ever read. I may have read worse, but if so I have removed the memory of the horror from my conscious mind. The worst bit is I thought I had read it before and rather liked it. I can only surmise that I have read one of those re-written versions for children, one that put rather more weight on the cannibals, finding Friday, the hindering of the mutiny ... you know, that sort of thing. I am of course referring to the rare moments of "something happens". I am not saying the book is <i>bad</i>. It does a <i>very</i> good job of conveying the feeling of being stuck on a desert island for 28 years. The sheer mind-numbing slowness of it. And while it is a dreadfully religious book, and my patience when it comes to sermons in books is limited to accept only two repetitions per topic, I enjoyed the occasional kicks aimed in the general direction of the Stuart monarchy, the Catholics and other people Defoe did not like in general. Perhaps I found it so boring because I am not a Victorian boy. I find it as a staple of any male character set in the Victorian era (and often later) that he will have spent his childhood reading Robinson Crusoe and enjoying it tremendously. Half the male authors I have been reading about considered it one of their formative books. Ironically, these authors write books I like, books that do <i>not</i> go on for 180 pages about the detailed measurements of the cave, the table, the canoe, the wall and all the rest. I know why it is there. I know it is supposed to back up the illusion of truth, the claim that it is a <i>memoir</i>, not a fiction. But knowing does not entail enjoying. Finally, for I should stop now, I must say this: I am sure this could be an intriguing book to analyse. Both for its attitude to politics and religion, for its very interesting treatment of slavery (which did fascinate me when it showed up), for the meditations on cultural relativity, or even for its use of mind-numbing detail of mundane tasks as a literary tool which really does communicate the experience of the cast-away in a way that no mere "I was alone on the island for 25 years" can do. I am not saying that you shouldn't read it. But don't go into it thinking it will be fun.
Review by fufuakaspeechless
16/06/2015
A really good book. Some find it boring but I think it was interesting to read about his isolation.
Review by markbstephenson
16/06/2015
A wonderful, seminal achievement by one of the greatest masters of prose ever.
Review by KamGeb
16/06/2015
It was interesting to finally read the classic version after reading versions for children. It was quite like the kids' stories, but iwa was very egocentric and Eurocentric. Also it was really a plot with no charachter development and no insight into how people felt. At times it was so involved in 17th century sailing it was hard to follow.
Review by vandev11
16/06/2015
Robinson Crusoe is shipwrecked on an island after his slave ship runs aground. The rest of his crew soon die and Robinson is left to fend for himself. Robinson soon encounters a group of savages, one of which he befriends and names Friday, and the two work in tandem to get themselves off the island.Defoe's work provides opportunity for various topics of discussion, ranging from the power of religion to the reconciliation of cultural differences. It is also an excellent book for examining the development of the English language, as the writing style is quite a bit different than most of the texts your students may have encountered.
Also in the Oxford World's Classics series | View all