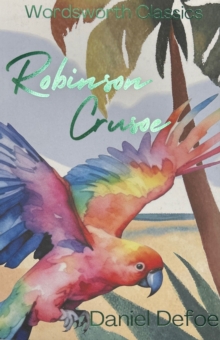 Robinson Crusoe
Paperback
Description
With an Introduction and Notes by Doreen Roberts, Rutherford College, University of Kent at Canterbury. From its first publication in 1719, Robinson Crusoe has been printed in over 700 editions.
It has inspired almost every conceivable kind of imitation and variation, and been the subject of plays, opera, cartoons, and computer games.
The character of Crusoe has entered the consciousness of each succeeding generation as readers add their own interpretation to the adventures so thrillingly 'recorded' by Defoe. Praised by eminent figures such as Coleridge, Rousseau and Wordsworth, this perennially popular book was cited by Karl Marx in Das Kapital to illustrate economic theory.
However it is readers of all ages over the last 280 years who have given Robinson Crusoe its abiding position as a classic tale of adventure.
Information
Format: Paperback
Pages: 272 pages
Publisher: Wordsworth Editions Ltd
Publication Date: 05/05/1992
ISBN: 9781853260452
Other Formats
Paperback from £2.50
Hardback from £5.09
EPUB from £0.99
CD-Audio from £8.75
Free Home Delivery
on all orders
Pick up orders
from local bookshops
Reviews
Showing 1 - 5 of 5 reviews.
Review by afderrick
16/06/2015
Oh my gosh this book was terrible! I wish I had of looked further into it before actually getting and reading this book. I gave it two stars because it was something I had heard about before and someone thought well enough to make a movie of it. I'm glad to be able to say that yes I've ready Robinson Crusoe but it's not a book I would ever recommend to anyone. The last 1/4 of the book was pretty good with a disappointing ending. The first 3/4 of the book though seemed like Defoe just wanted to increase the length of his book and many times I thought I was re-reading a page simple because there was so much redundancy in the book. It took me two weeks to read this book when I finished one about 100 pages longer in about 4 days, I just found this book put me to sleep and I couldn't concentrate on it at all. Finally I didn't care much for how it was written. When speakers in a conversation changed the only way you could tell was by the apostrophes. Normally where there is a line break there was none, this confused me many times with the dialogs. This may have just been my version of the book though
Review by john257hopper
16/06/2015
This book was probably the first true novel, in the modern sense, published in the English language (1719). Much of the book details Crusoe's attempts to survive on his island, with quite detailed accountants of his efforts to grow crops, domesticate goats and make cooking utensils and other tools. Although this may sound quite dull, the writing style for the most part pulled me through. The narrative is quite positive and Crusoe comes to adopt a positive mental attitude by counting his blessings in terms of the articles he salvages from the shipwreck, the fact that the hulk is still accessible, and that there are no wild animals on his island. This is of course the original cannibal savages v. civilised white Anglo Saxon story, now a racist cliche, but then a worldview that all the book's readers would surely have shared nearly three centuries ago. Finally, I think the narrative should have ended when he came back to England, but instead there is a longish section on his property and financial arrangements and his fighting wolves in France, that seemed to lack a clear purpose.
Review by .dan
16/06/2015
This book is very very slow. It is classic, but the type of classic that is only for a few excited readers that are not afraid of a long winter evenings with reading about Robinson's struggling on the sunny (or rainy) island.. Good luck to all brave readers.
Review by Nialle
16/06/2015
Started rereading this as a refresher before I pick up Foe - and wow, is it a different book now. When I was a kid, I read this at the crux between my nautical fiction craze and my self-sufficiency craze, so naturally the seagoing and the invention with which Crusoe builds his encampment interested me most. This time around, though, I'm fascinated by his descriptions of living with and without fear of different varieties, and by what is middle-class and middle-aged about those fears. Very different. Hm.
Review by Lukerik
16/06/2015
There's so much more in this novel than has come into the culture. It's essentially about sin and slavery. So Crusoe disobeys his father and is cast into slavery. After he escapes he sets about enslaving others and is cast away on the island, into a sort of slavery to himself, where he can never do anything for anyone else. And for all that he takes to God, he can never be tested. Whatever his character faults, when he gets company he does take command with their agreement and it's only then that he can escape. Clever stuff, and it's also an exciting adventure story.
Also in the Wordsworth Classics series | View all