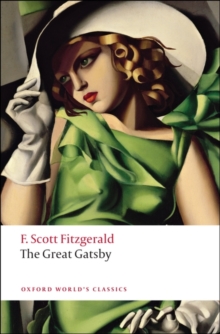 The Great Gatsby
Paperback
Description
"He talked a lot about the past and I gathered that he wanted to recover something, some idea of himself perhaps, that had gone into loving Daisy. His life had been confused and disordered since then, but if he could once return to a certain starting place and go over it all slowly, he could find out what that thing was ..." The Great Gatsby (1925), F.
Scott Fitzgerald's masterpiece, stands among the greatest of all American fiction.
Jay Gatsby's lavish lifestyle in a mansion on Long Island's gold coast encapsulates the spirit, excitement, and violence of the era Fitzgerald named 'the Jazz Age'.
Impelled by his love for Daisy Buchanan, Gatsby seeks nothing less than to recapture the moment five years earlier when his best and brightest dreams - his 'unutterable visions' - seemed to be incarnated in her kiss.
A moving portrayal of the power of romantic imagination, as well as the pathos and courage entailed in the pusuit of an unattainable dream, The Great Gatsby is a classic fiction of hope and disillusion. This edition is fully annotated with a fine Introduction incorporating new interpretation and detailing Fitzgerald's struggle to write the novel, its critical reception and its significance for future generations.
ABOUT THE SERIES: For over 100 years Oxford World's Classics has made available the widest range of literature from around the globe.
Each affordable volume reflects Oxford's commitment to scholarship, providing the most accurate text plus a wealth of other valuable features, including expert introductions by leading authorities, helpful notes to clarify the text, up-to-date bibliographies for further study, and much more.
Information
Format: Paperback
Pages: 208 pages, map
Publisher: Oxford University Press
Publication Date: 12/06/2008
Category: Classic fiction (pre c 1945)
ISBN: 9780199536405
Other Formats
Paperback from £2.50
Hardback from £8.35
CD-Audio from £8.59
from £9.95
Free Home Delivery
on all orders
Pick up orders
from local bookshops
Reviews
Showing 1 - 2 of 2 reviews.
Review by Helenliz
16/06/2015
 This is an odd little book, but not odd in a bad way. Told in the first person by Nick Carraway, it is set at the height of the exciting period that existed between the end of WW1 and the depression in New York - that most vibrant of cities. nick isn't really part of the set he's writing about, he just happens to be the neighbour of one of its leading lights - Jay Gatsby. and as an outsider, Nick makes quite an impartial, somewhat cynical, observer, on the periphery of the action, but rarely part of it. But he warms to Gatsby, such that, over the book he moves from being one in a company of hundreds to a man alone. <br/><br/>There are a lot of rather unpleasant characters, but they're never entirely indecipherable, you might not have done the same thing as they did, but you can understand why they make the decisions they have made. Nick comes out of it as a very decent man, but with his feet on the ground. Gatsby, in contrast, comes across as, at heart, equally as decent, but with his head in the clouds. He's managed, by his own effort, to transform his life and prospects (not always legally is the implication) but he has a dream. He met Daisy while a young army officer, but he had no money or security to offer her such that he considered himself committed to her. As he left for the war, she gradually drifted away from him and back to the dazzling, shallow, lifestyle of parties and attachments that she'd known before. She eventually marries Tom. I felt it was, in some ways a meeting of two equally rich, shallow people and they deserved each other. But it never stayed that simple. Gatsby has lived on the dream of her that existed 5 years ago. She never existed as he imagines her and the attempts to recapture the past fail dismally. On his side, the reality fails to live up to the dream, on her side, she has neither the courage of her convictions or the depth of feeling to actually do anything that's not just a case of following the path of least resistance. <br/><br/>It ends, badly, as it would when a dream comes face to face with reality and the reality fails to live up to the expectation. Unfortunately, it takes a number of people down with it, but those who deserve their comeuppance seem to escape scot free. But it's not a depressing end. It is as if the dream was too big to live. nick, as the sort of man he is, tidies everything up and keeps what he knows to himself. But he has become disillusioned with the life he has been trying to lead and so heads back to the Mid west and his natural habitat. <br/><br/>It is a very vivid book, you can easily imagine the parties and the surroundings that the story is set in. Having said that, the people don;t seem to be described in any detail - but they stand as individuals in my imagination. It's not a long book, there's little in the way of padding and spare text - it should serve as a model to some of the overblown texts I've read recently in the art of concision. It doesn't take more than a few words to bring the entire thing into vivid life. You can't help feeling for the characters, even while you don't really like them - which takes a really great writer to achieve. This is very good.
Review by edgeworth
16/06/2015
One of the great American novels – or more accurately, novellas – The Great Gatsby is a book that belongs on anybody's TBR pile, but which came to the top of mine when the film adaptation was released, in case anybody tried to drag me to go see it and thus ruined the plot. That never ended up happening, though, so I've only just now got around to reading it.Taking place in the fictional wealthy neighbourhood of West Egg, Long Island, The Great Gatsby takes place over the summer of 1922, in which the narrator, Nick Carraway, moves into a modest home next door to the much larger mansion of the enigmatic Jay Gatsby. Nick's wealthy cousin Daisy and her insufferable husband Tom also live nearby, and Nick learns that Gatsby has a mysterious obsession with Daisy.There are a couple of lavish parties held at Gatsby's mansion, which I suppose was the reason Baz Luhrmann was drawn to adapting it to film. (Recently I discovered that Lurhmann is apparently straight. Sure, mate.) Most of The Great Gatsby does take place in and around great wealth – mansion parties, fine restaurants, antique dining rooms – and the novel has been called a critique of the jazz age and cautionary tale about the American dream. But I didn't find the characters' wealth (apart from Gatsby's new money) to be particularly relevant to the novel's overall theme, which is about infatuation, disillusionment and attempting to recapture the promise of the past. (It reminded me quite a bit of Lev Grossman's The Magicians in that sense, in a very different sort of way.)A lot of American readers apparently remember this book from high school, and dislike it, and I can understand why. It's a short book rich in symbolism and metaphor, so I can see why it would appeal to English teachers, but teenagers have yet to suffer the disappointments and lost dreams which make a book like The Great Gatsby relatable. The novel has one of the most famous closing lines in fiction…<i>"So we beat on, boats against the current, borne ceaselessly back into the past."</i>…but to sixteen-year-olds who have their entire lives stretching ahead of them – who perhaps, like the teenagers in Julian Barnes' The Sense of an Ending, are waiting until graduation so their "real" lives can begin – these words are meaningless.So I'm glad I read The Great Gatsby at this stage in my life. It has a power and a tone to it I would have been unable to appreciate when I was younger. Having said that, the plot does unfold rather oddly; Gatsby's final fate has little to do with his own confidence that he can "repeat the past," and more to do with a series of crazy coincidences. So the structure of the book is a little shaky, perhaps, but it's held up by the brilliance of Fitzgerald's writing. I could immediately see why he is considered one of the finest writers of the 20th century; his prose has a clear, lyrical quality to it which never actually reads like writing. In particular, I noticed that he was one of those lucky writers who can clearly and egregiously break some of the most fundamental rules of writing without suffering the consequences.The Great Gatsby is an excellent novel, and for its historical context it certainly deserves to be mentioned among the greatest American novels of the 20th century. It's a shame that it's force-fed to so many understandably unwilling American high school students.
Also in the Oxford World's Classics series | View all