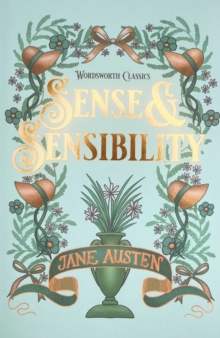 Sense and Sensibility
Paperback
Description
Introduction and Notes by Professor Stephen Arkin, San Francisco University. 'Young women who have no economic or political power must attend to the serious business of contriving material security'.
Jane Austen's sardonic humour lays bare the stratagems, the hypocrisy and the poignancy inherent in the struggle of two very different sisters to achieve respectability. Sense and Sensibility is a delightful comedy of manners in which the sisters Elinor and Marianne represent these two qualities.
Elinor's character is one of Augustan detachment, while Marianne, a fervent disciple of the Romantic Age, learns to curb her passionate nature in the interests of survival. This book, the first of Austen's novels to be published, remains as fresh a cautionary tale today as it ever was.
Information
Format: Paperback
Pages: 320 pages
Publisher: Wordsworth Editions Ltd
Publication Date: 05/05/1992
Category: Classic
ISBN: 9781853260162
Other Formats
Paperback from £3.99
Hardback from £7.95
CD-Audio from £11.39
Leather / fine binding from £13.65
EPUB from £0.99
Free Home Delivery
on all orders
Pick up orders
from local bookshops
Reviews
Showing 1 - 5 of 5 reviews.
Review by Cait86
16/06/2015
When I first read Sense and Sensibility several years ago, I thought it was okay, but nowhere near as good as Pride and Prejudice, one of my favourite books. Now, after reading much more of Austen's works, and rereading this, her first published novel, I can without a doubt say that I <i>hate</i> Sense and Sensibility.Why? Well, first of all, I dislike every single character. The "bad" characters are wimpy in their deviousness, and the "good" characters are ridiculously naive. Elinor's sense makes her preachy, and Marianne's emotional sensibility causes her to make a complete fool of herself. She is adored by all, but I cannot understand why - I mean, the girl is such a ninny that she nearly dies just because a man leads her on. And Elinor, who loves Edward, is so proper that she never tells him how she feels, and is ready to let him marry another woman.Next, I feel as though these characters are merely sketches of the much more entertaining characters in Pride and Prejudice. Willoughby is a lesser version of Wickham, Mrs. Dashwood a tamer Mrs. Bennett, and Colonel Brandon a less romantic Mr. Darcy. Sense and Sensibility was like rough work for the masterpiece that is Pride and Prejudice. Even some of the storylines are similar, particularly the scandal involving Willoughby.Of course, Sense and Sensibility is still an Austen novel, and so it is still beautifully written. No one quite compares with Jane when it comes to manipulating words, and so this novel was a pleasure to listen to - music to the ears. But, I'm a reader who cannot subsist on good writing alone; I need a story and characters I can care about, and here, Austen fails.<i>Note: Of course, this is all just my opinion. I know lots of people love this book, and I have had an especially trying week, which may have made me a more disgruntled reviewer than normal!</i>
Review by LucyB.
16/06/2015
This fantabulous classic was part of my read for the Everything Austen Challenge. Due to my love for anything and everything Victorian, I can say that it was only natural that I'd fall in love with this timeless piece. This story of the very different Dashwood sisters and their clashing tastes in their choices of men to love, was endearing as well as very frustrating at times. Just when I thought the obvious about Colonel Brandon, Edward or Willoughby- the story took a different turn just to add to the intrigue of it all; classic Austen at its best.The story revolves around love-sickness, love-triangles, a marriage of convenience, age and love, differences of choices and opinions, wealth and social status, influence, family conflict, secret-filled pasts and ultimately…and appropriately so: sense and sensibility. I'm still not sure which of the sisters I concurred with the most; Elinor or Marianne... Austen brilliantly shifts us from one perception to the other while embracing both depending on the situation. Ultimately the girls' reconciliation and love for eachother blends the disparities of state helping them come to terms with their own serenity. Love can then be found and accepted under a new light.Sense and Sensibility is a light read embedded with deeper meaning that brings comfort, peaks interest and offers a colourful variety of figures (the comical busy-body Miss Jennings is indeed very special!) On the whole, this read meshed excitement, passion, drama as well as 'sagesse' in the lives of two otherwise very ordinary ladies of the times. The book doesn't skip a beat with essential meanings and turn of events within every paragraph- With this one, you won't want to blink:)One can never get enough of elegantly written suspense-filled love twists and pangs. At least I can't- Loved it!
Review by birdsam0610
16/06/2015
I read Sense and Sensibility as part of the Sense and Sensibility Bicentenary Challenge 2011. The book (a pretty hardcover version) had been sitting on my shelves for some time, so it was a good opportunity to get onto it! Sense and Sensibility is the only Jane Austen novel I haven't seen as a movie or series (yes, I know, shameful) so I was relying on Miss Austen herself to tell me all about this book.I'm sure everyone knows the plot of this book (or can Google it), but in short, it's the story of two single sisters of marriageable age and their trials and tribulations when it comes to men. There's the cad, the gentleman (actually, two of them), a trip to London and a nasty illness. The sisters are very different – Elinor is sensible and restrained, while Marianne is passionate and impulsive. The Austen wit is hard at work in this novel, and I enjoyed being able to chuckle at some of the actions of the characters (especially Marianne's outbursts). It is finely written and captures the time well. I could picture Barton and the Dashwood's cottage easily. I found myself on the edge of my seat at Marianne's illness, wishing for penicillin – Austen captured well the despair that Elinor found herself in.I did enjoy this book, but I still think Pride and Prejudice is my favourite. Elinor is a little too restrained for my liking, while Marianne is a bit too impetuous.
Review by SueinCyprus
02/03/2016
The classic story of two sisters: one quiet and sensible, the other effusive and easily hurt (full of 'sensiblity' as they called it). The book charts their first romances, and the ways they deal with hurt. Rather a lot of detail, in the style of the times, and some moralising - but there's also some humour, and delightful irony exposing some of the worst traits of caricatured minor characters.
Review by WonderlandGrrl
02/03/2016
Good, but not may favorite by Austin
Also in the Wordsworth Classics series | View all