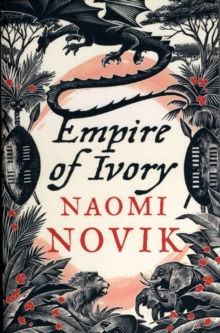 Empire of Ivory
Paperback
Description
Naomi Novik's stunning series of novels follow the adventures of Captain William Laurence and his fighting dragon Temeraire as they travel from the shores of Britain to China and Africa.Laurence and Temeraire made a daring journey across vast and inhospitable continents to bring home a rare Turkish dragon from the treacherous Ottoman Empire.Kazilik dragons are firebreathers, and Britain is in greater need of protection than ever, for while Laurence and Temeraire were away, an epidemic struck British shores and is killing off her greatest defence - her dragon air force is slowly dying.The dreadful truth must be kept from Napoleon at all costs.
Allied with the white Chinese dragon, Lien, he would not hestitate to take advantage of Britain's weakness and launch a devasting invasion.Hope lies with the only remaining healthy dragon - Temeraire cannot stay at home, but must once again venture into the unknown to help his friends and seek out a cure in darkest Africa.
Information
Format: Paperback
Pages: 400 pages
Publisher: HarperCollins Publishers
Publication Date: 01/03/2008
Category: Fantasy
ISBN: 9780007256747
Free Home Delivery
on all orders
Pick up orders
from local bookshops
Reviews
Showing 1 - 2 of 2 reviews.
Review by salimbol
16/06/2015
Very solid addition to the Temeraire series, in which Novik broadens her canvas and shows us her alternate history version of early 19th century Africa. This lends itself to probably the thematically heaviest book so far, paralleling the horrors of the slave trade with the treatment of the dragons, and leads to a particularly powerful ending (warning - cliffhanger!). While the book suffers from somewhat uneven pacing at times, it's still a cracking good read (and it can be wickedly funny, to boot).
Review by shanaqui
16/06/2015
I was reluctant to read this one, having skimmed the back page and seen the word "execution". If you can't get your hands on the next book immediately, like me, it is a cruel, cruel cliffhanger. <br/><br/>This book has much fewer battle scenes than the previous book, and isn't focused as much around the war, although several important events happen to do with the war. Temeraire and Laurence return home in triumph only to find that a contagion has swept through the dragons in Britain. It was referred to in the previous book, and some things about the previous book are explained by it, which I thought was pretty good, although Novik isn't bad at continuity anyway and this is obvious stuff. Rather than be hailed as heroes and relax for a bit, they have to go in search of a cure for the other dragons.<br/><br/>I was glad that the women return to having a more prominent place in this book, particularly Catherine Harcourt. I was somewhat less pleased with the fact that she does cave and get married, when she gets pregnant, which isn't really in line with what the Corps think of it. I was glad, though, that Laurence's qualms about unmarried women having children remained. Such values are an important part of his upbringing and the era, so that makes sense.<br/><br/>The themes of the slave trade continued, too. It was good to see repercussions of it in their relations with other countries.<br/><br/>I'm of mixed feelings about the end. Of course I'm glad that Laurence and Temeraire do the honourable thing, both in going to France and returning, but I'm sad that they have to and I wonder what will come of it.
Also in the The Temeraire Series series | View all