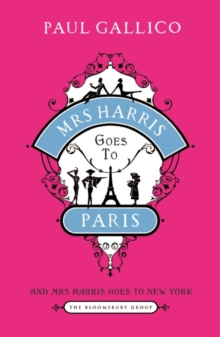 Mrs Harris Goes to Paris : The Adventures of Mrs Harris AND Mrs Harris Goes to New York
Paperback
Description
Mrs Harris is a salt-of-the-earth London charlady who cheerfully cleans the houses of the rich.
One day, when tidying Lady Dant's wardrobe, she comes across the most beautiful thing she has ever seen in her life - a Dior dress.
In all the years of her drab and humble existence, she's never seen anything as magical as the dress before her and she's never wanted anything as much before.
Determined to make her dream come true, Mrs Harris scrimps, saves and slaves away until one day, after three long, uncomplaining years, she finally has enough money to go to Paris.
When she arrives at the House of Dior, Mrs Harris has little idea of how her life is about to be turned upside down and how many other lives she will transform forever.
Always kind, always cheery and always winsome, the indomitable Mrs Harris takes Paris by storm and learns one of life's greatest lessons along the way.
This treasure from the 1950s introduces the irrepressible Mrs Harris, part charlady, part fairy-godmother, whose adventures take her from her humble London roots to the heights of glamour.
Information
Format: Paperback
Pages: 320 pages
Publisher: Bloomsbury Publishing PLC
Publication Date: 05/07/2010
ISBN: 9781408808566
Free Home Delivery
on all orders
Pick up orders
from local bookshops
Reviews
Showing 1 - 2 of 2 reviews.
Review by Kasthu
16/06/2015
Technically, half of this book is a re-read; I read and reviewed Mrs. 'Arris Goes to Paris in 2008, so I was thrilled when I found out that it would be reprinted along with Mrs. Harris Goes to New York. They are two stories in and of themselves, but Mrs. Harris Goes to New York is best read alongside Mrs. Harris Goes to New York.I've noticed that the plots of the two stories in this book (more stories than novels, really) tend to conform to a certain formula: Mrs. Harris is a charming sixty-something-year-old woman who uses her forceful personality to charm and sometimes manipulate people and situations. Her adventures sometimes strain credulity, but I really enjoyed following her all over the world. Mrs. Harris is perhaps not very intelligent, but she's very warm and I love that she's able to manipulate people around her, oh-so-subtly. It's always interesting to see how she'll get out of her various predicaments—and you know she'll always get out of them. A larger theme in both these novels is how does one deal with adversity, and overcome obstacles along the way?Gallico's novels about Mrs. Harris are very funny in many places. Considering that Paul Gallico was a sports writer, it's amazing how much he knew about and researched high fashion. I wish that Mrs. Harris Goes to Paris had been a longer novel, though…
Review by ctpress
27/08/2015
Mrs. Harris is a widowed charwoman in London who one day sees a beautiful Dior dress in a wardrobe while she's cleaning. The Dior dress becomes her one absorbing desire and she saves every pennie to buy one. And one day - of she goes to Paris for her dress. And her life will change forever through the people she meets and befriends. If you want to read a short, delightful, funny story this is it. It is so likable and entertaining you want to hug the main characters. And into the bargain: It's in "1001 Books You Must Read Before you Die".
Also in the The Bloomsbury Group series | View all