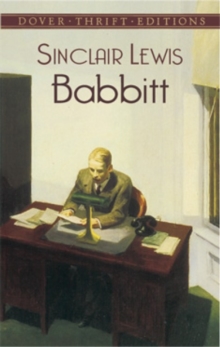 Information
Format: Paperback
Pages: 320 pages
Publisher: Dover Publications Inc.
Publication Date: 22/09/2003
ISBN: 9780486431673
Other Formats
Paperback from £8.59
EPUB from £1.38
Hardback from £19.99
Paperback / softback from £11.79
Free Home Delivery
on all orders
Pick up orders
from local bookshops
Reviews
Showing 1 - 5 of 5 reviews.
Review by CarlaR
16/06/2015
I did like the writing, however the story just made me sad. There was no time that I could cheer for Babbit.... not when he is in his plastic life at the top of the social hierarchy, and not when he is rebelling with parties and women. It's most crushing when he decides to go back to where he was in the beginning.
Review by readerbabe1984
16/06/2015
After the enormous success of his novel Main Street, Lewis turned to another icon of American life, this time the archetypal middle-clas businessman, immortalized in the figure of George F. Babbitt. Babbitt is a real estate salesman who lives and works in the fictional Midwestern town of Zenith. His story is that of suburban life in a city which is filled with "neither citadels nopr churches, but frankly the beautifully office-buildings." Lewis' novel satirically but lovingly details Babbit's routines and rituals as he goes to and from work, socializes, plays golf, goes to the club, and becomes involved in local politics. In the mids of his contented and prosperous life, however, an event occurs that turns Babbit's world upside down and forces him to examine his comfortable existanse. Babbit's resulting lurch from one uncertainty to another allows the reader to see beyond the shining office towers of Zenith to a grittier, more sobering but ultimately more human kind of Amarican life. Lewis' triumph here lies in taking a character that no one could possibly like-the self-important conformist, and aggressively bigoted American businessman-and evoking not only barbed humor but vivid human feeling. Babbitt works as a political critique, piercing the smug veil worn by interwar American capitalism, but trancends mere amusing satire. Life in Zenith has a surprising depth; as such, it reminds us of the redemptive power of looking past ideology to the human relations beneath.
Review by angeliquestratt
16/06/2015
If you're looking for a book that make you critically examine the everyday life of a period, look no further. If you're looking for a typical plot line, look elsewhere. The basic premise of this book is that a middle aged, established man begins to question societal norms in a gradual and non-philosophical way. Babbitt doesn't start reading Marx, declare himself a communist and set out to consciously change his life. Instead, he decides to have a third glass of whiskey one night, spend another with a racy crowd, skip Elk's Club once in awhile if he feels like it. Interestingly, even as he does this, his ideas remain somewhat stationary. Though he drinks an extra glass of whiskey, he doesn't begin to condone excessive drinking, etc etc. He begins to act on isolated urges without altering his principles to do so. This makes for a realistic transition, and Babbitt is believable throughout. It provides an answer to the question I have asked myself about someone's actions time and time again, "why would this person change in this way?"
Review by realistTheorist
16/06/2015
The protagonist, Mr. Babbitt is a middle-aged, middle-class real-estate broker, who votes Republican, goes to church, and is the member of the right club; but, he is not very zealous about any of these aspects of his life. He is even open to alternatives in morality and politics, and he explores some of them. Babbitt is not a caricature we would reject as ridiculous. He is a realistic portrayal of a man who has chosen values which are about average for his background.Sinclair Lewis does not sympathize with Babbit's values. There are parts of the book that are satirical in highlighting Babbitt's hypocrisy. Nevertheless, Lewis appears sympathetic to Babbit the man; the man who is not quite happy with his choices, and is trying to be open to alternatives.Lewis's book is naturalism at its best. The actors introspect, and make choices, and direct their lives... and yet, the summarizing message is that this is extremely difficult, and perhaps essentially futile. We do not see someone being absolutely carried along with the trend; but, we surely do not see any heroic battles either. The actors are not born with some inherent flaw that they cannot will away; yet, we find them constrained by their own values and choices, unable to radically change the choices they have made.While I cannot recommend this as inspiring fiction, I think it is definitely worth reading a few such books. I think this type of naturalism has didactic (and "cautionary tale") value. While the naturalism will leave the reader uninspired, the plot carries one along as if one were watching a real reality show.Personally, I will probably read more Sinclair Lewis, but primarily as part of my interest in that period of American history from the 1880s to WW-II.
Unsettling satire of the foundational values of the American busines-oriented and puritanistic society, probably still current.
Also in the Dover Thrift Editions series | View all