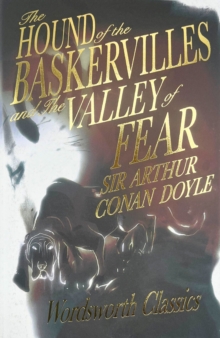 The Hound of the Baskervilles & The Valley of Fear
Paperback
Description
With an Introduction by David Stuart Davies. The Hound of the Baskervilles is the classic detective chiller.
It features the world's greatest detective, Sherlock Holmes, in his most challenging case.
The Baskerville family is haunted by a phantom beast "with blazing eyes and dripping jaws" which roams the mist-enshrouded moors around the isolated Baskerville Hall on Dartmoor.
Now the hound seems to be stalking young Sir Henry, the new master of the Baskerville estate.
Is this devilish spectre the manifestation of the family curse? Or is Sir Henry the victim of a vile and scheming murderer?
Only Sherlock Holmes can solve this devilish affair. The Valley of Fear is a dark, powerful tale, which provides the great detective with a most perplexing case and opens with a vile murder: "Lying across his chest was a most curious weapon, a shotgun with the barrel sawn off in front of the triggers.
It was clear that it had been fired at close range, and that he had received the whole charge in the face, blowing his head almost to pieces". Sherlock Holmes' arch enemy, the criminal genius Professor Moriarty, is back!
But the solution to the riddle, found after many surprising twists and high dramas, lies far away, half across the world in a location known as 'The Valley of Fear'.
This is Conan Doyle's last Holmes novel and in the opinion of many of his fans, it is the best!
Information
Format: Paperback
Pages: 336 pages
Publisher: Wordsworth Editions Ltd
Publication Date: 07/04/1999
Category: Classic crime
ISBN: 9781840224009
Other Formats
Hardback from £7.29
Paperback from £27.95
Free Home Delivery
on all orders
Pick up orders
from local bookshops
Reviews
Showing 1 - 2 of 2 reviews.
Review by michaeldwebb
16/06/2015
If you look at the rest of my library you'll notice a distinct lack of classics. I read more of these when I was younger, but haven't recently. Why now? Because I read it as an eBook on my iPhone - Classics application - a few pence for a bundle of books. And it really was readable. Best thing was I could read in the dark (ie at night) with no problem.Anyway, on to the book. I've not read any Sherlock Holmes before, and, luckily, had somehow avoided catching it on TV etc, so didn't know the ending. Lets face it, some classics can feel a little, you know, worthy (?) now, but this was just thoroughly enjoyable, perfectly readable, could have been written an time. OK, the characters aren't deep, but they are deep enough for a mystery story, the setting is great, and the twists and turns still work well today. Kept me gripped to the end.
Review by Shimmin
16/06/2015
I was not at all a fan of this story. I don't reckon much to Conan Doyle's novels, to be honest; they seem unimaginative for their length, and they're quite similar. This one's much like Study in Scarlet and, I've just been told, another couple of stories: a man's being hunted by a sinister organisation because of past history, and most of the story is told as a personal history with no trace of Holmes and Watson, or any equivalently interesting detection. One or two like this are okay, but I'm done with them now. Also, the history itself is extremely depressing, with a whole valley under the thumb of a murderous gang, and Conan Doyle beating you over the head with the foul murder they plot and the misery of the whole situation. Finally, you find out that the presumed protagonist isn't, as he initially seemed, a murderous thug, but (if you hadn't guessed) a detective here to break up the gang, which explains why the last few are hunting him years later after they get out of prison. Then he gets killed in the epilogue, offstage, by Moriarty, with no attempt at mystery or explanation, to make some point or other about the Holmes-Moriarty setup for later use. I mean, I finished it, but I pretty much wish I hadn't. There's not much of the usual investigative cleverness in there, it's not that original, it's incredibly depressing (not ideal for the likes of me) and I just don't think it's remotely worth it.I've already read Hound years ago, at least a couple of times. It's far better in every way.
Also by Sir Arthur Conan Doyle | View all
Also in the Wordsworth Classics series | View all