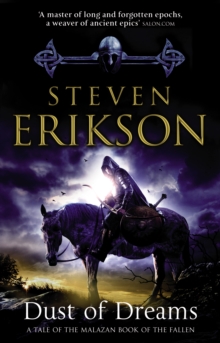 Dust of Dreams : The Malazan Book of the Fallen 9
Paperback
Description
The penultimate book in the acclaimed Malazan Book of the Fallen fantasy seriesOn the Letherii continent the exiled Malazan army commanded by Adjunct Tavore begins its march into the eastern Wastelands, to fight for an unknown cause against an enemy it has never seen.
The fate awaiting the Bonehunters is one no soldier can prepare for, and one no mortal soul can withstand - the foe is uncertainty and the only weapon worth wielding is stubborn courage.
In war everyone loses, and this brutal truth can be found in the eyes of every soldier in every world. Destinies are never simple. Truths are neither clear nor sharp. The Tales of the Malazan Book of the Fallen are drawing to a close in a distant place, beneath indifferent skies, as the last great army of the Malazan Empire seeks a final battle in the name of redemption.
Final questions remain to be answered: can one's deeds be heroic when no one is there to see it?
Can that which is unwitnessed forever change the world?
The answers await the Bonehunters, beyond the Wastelands... Archaeologist and anthropologist Steven Erikson's debut fantasy novel, Gardens of the Moon, was shortlisted for the World Fantasy Award and introduced fantasy readers to his epic 'The Malazan Book of the Fallen' sequence, which has been hailed 'a masterwork of the imagination'.
This River Awakens was hist first novel, and originally published under the name Steve Lundin. Having lived in Cornwall for a number of years, Steve will be returning to Canada in late summer 2012.
To find out more, visit www.malazanempire.com and www.stevenerikson.com
Information
Format: Paperback
Pages: 1280 pages, Line maps
Publisher: Transworld Publishers Ltd
Publication Date: 01/10/2008
ISBN: 9780553813173
Free Home Delivery
on all orders
Pick up orders
from local bookshops
Reviews
Showing 1 - 4 of 4 reviews.
Review by lewispike
16/06/2015
This book comes with a warning that it's not really a book 9, it's more the first half of the (HUGE) final volume. At 1300 pages for the first half... the complete final volume is going to be well over 2,000 pages I guess.And the fact that it is (only) the first 1300 pages of a coffee-table (not a coffee-table book, a book big enough to be a coffee-table), plus the fact that there's a lot of random threads to tie together both show at various points.Even for as big a fan of Erikson's work as I am, this book proved quite hard going - there are a significant number of new characters, a couple of new cultures, and just so many threads to move forwards that it gets heavy going in places.But, equally, there are all the normal deft twists, the magical touches and a fine cliff-hanger of an ending that has left me very eager for the final book.I suspect it may prove to be a tour de force but it will take that final book to make this one complete.
Review by heterocephalusglaber
16/06/2015
YOU FUCKING CLIFFHANGER LIKE A MOTHERFUCKER
Review by humblewomble
16/06/2015
YOU FUCKING CLIFFHANGER LIKE A MOTHERFUCKER
Review by thebookmagpie
02/03/2016
YOU FUCKING CLIFFHANGER LIKE A MOTHERFUCKER
Also in the The Malazan Book Of The Fallen series | View all