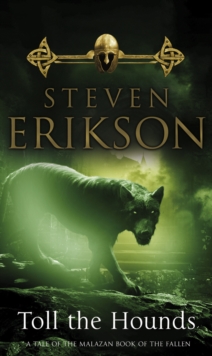 Toll The Hounds : The Malazan Book of the Fallen 8
Paperback
Description
The eighth book in Erikson's acclaimed Malazan Book of the Fallen fantasy sequenceIt is said that Hood waits at the end of every plot, every scheme, each grandiose ambition.
But this time it is different: this time the Lord of Death is there at the beginning... Darujhistan swelters in the summer heat and seethes with portents, rumours and whispers.
Strangers have arrived, a murderer is abroad, past-tyrannies are stirring and assassins seem to be targeting the owners of K'rul's Bar.
For the rotund, waistcoat-clad man knows such events will be dwarfed by what is about to happen: for in the distance can be heard the baying of hounds. Far away, in Black Coral, the ruling Tiste Andii appear oblivious to the threat posed by the fast-growing cult of the Redeemer - an honourable, one-mortal man who seems powerless against the twisted vision of his followers.
So Hood waits at the beginning of a conspiracy that will shake the cosmos, but at its end there is another: Anomander Rake, Son of Darkness, has come to right an ancient and terrible wrong... Archaeologist and anthropologist Steven Erikson's debut fantasy novel, Gardens of the Moon, was shortlisted for the World Fantasy Award and introduced fantasy readers to his epic 'The Malazan Book of the Fallen' sequence, which has been hailed 'a masterwork of the imagination'.
This River Awakens was his first novel, and originally published under the name Steve Lundin. Having lived in Cornwall for a number of years, Steve will be returning to Canada in late summer 2012.
To find out more, visit www.malazanempire.com and www.stevenerikson.com
Information
Format: Paperback
Pages: 1296 pages, Maps
Publisher: Transworld Publishers Ltd
Publication Date: 01/04/2009
Category: Fantasy
ISBN: 9780553824469
Free Home Delivery
on all orders
Pick up orders
from local bookshops
Reviews
Showing 1 - 2 of 2 reviews.
Review by lewispike
16/06/2015
This book took a long time for me to read, because in the middle of it I was quite ill and didn't read much. In addition, it's structured as a multitude of apparently disparate story lines, often told in very short (1-3 paragraph) chunks before hopping to another story line; a style I particularly dislike.Despite that, this still gets 4.5 stars from me. Why? Because, yet again, Erikson has taken my expectations in a number of places and totally subverted them for one. For another, there are huge, massive plot developments and although at moments I was left wondering if they'd be properly handled, the pay-off (although delayed) was beautifully done and far, far more satisfying than I'd initially expected. Details are, of course, spoilers, so I'll spare them.I'm looking forward to the next book immensely.
Review by DRFP
16/06/2015
All that momentum Erikson built with <i>Memories of Ice</i> (we'll ignore the non-entity that was <i>House of Chains</i>) <i>Midnight Tides</i> and <i>The Bonehunters</i> comes to a screeching halt here. <i>Reaper's Gale</i> already showed Erikson returning to his worst, reach exceeding grasp, and so it is again. Quite why much of this book needed to happen I don't know. I wonder, given the threads left hanging, if wasn't simply to set up his pal ICE... I really didn't see the need to return to Darujhistan, I've never much cared for the Andii (who simply seem to get in the way of a lot of the story, much like the Jaghut) and certainly don't give a toss about what's going on within Dragnipur (the whole storyline of which seemed an exercise in excess and editorial failing).It's not to say this is an awful book, I just wonder how much any of what happens here will impact the last two books, and whether (as it seems now) it isn't all just filler and fluff.
Also in the The Malazan Book Of The Fallen series | View all