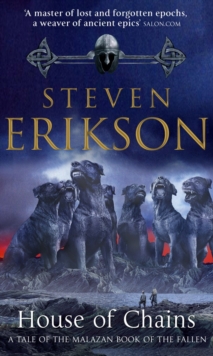 House of Chains : Malazan Book of the Fallen 4
Paperback
Description
In Northern Genabackis, just before the events recounted in GARDENS OF THE MOON, a raiding party of savage tribal warriors descends from the mountains into the southern flat lands.
Their intention is to wreak havoc among the despised lowlanders, but for the one named Karsa Orlong it marks the beginning of what will prove an extraordinary destiny.
Some years later, it is the aftermath of the Chain of Dogs.
Coltaine, revered commander of the Malazan 7th Army is dead. And now Tavore, elder sister of Ganoes Paran and Adjunct to the Empress, has arrived in the last remaining Malazan stronghold of the Seven Cities to take charge.
Untested and new to command, she must hone a small army of twelve thousand soldiers, mostly raw recruits, into a viable fighting force and lead them into battle against the massed hordes of Sha'ik's Whirlwind.
Her only hope lies in resurrecting the shattered faith of the few remaining survivors from Coltaine's legendary march, veterans one and all. In distant Raraku, in the heart of the Holy Desert, the seer Sha'ik waits with her rebel army.
But waiting is never easy. Her disparate collection of warlords - tribal chiefs, High Mages, a renegade Malazan Fist and his sorceror - is locked in a vicious power struggle that threatens to tear the rebellion apart from within. And Sha'ik herself suffers, haunted by the private knowledge of her nemesis, Tavore...her own sister. So begins the awesome new chapter in Steven Erikson's MALAZAN BOOK OF THE FALLEN - an epic novel of war, intrigue, magic and betrayal from a writer regarded as one of the most original, imaginative and exciting storytellers in fantasy today.
Information
Format: Paperback
Pages: 1040 pages
Publisher: Random House USA Inc
Publication Date: 01/09/2003
Category: Fantasy
ISBN: 9780553813135
Free Home Delivery
on all orders
Pick up orders
from local bookshops
Reviews
Showing 1 - 3 of 3 reviews.
Review by lewispike
16/06/2015
Another massive chunk of a book, internally divided into 4 parts. Part 1 starts a few years before Gardens of the Moon and introduces us to a seemingly brand new group of people and their culture. These tie to Icarium, and ultimately to the T'lan Imass and the House of Chains of the title.Books 2-4 are set after Deadhouse Gates and on the Seven Cities, as Tavore and Sha'ik move to confront each other.There are, as you'd expect, a whole handful of plots going on here: the development of our new friend from book 1, little bits about a genuinely new race and culture, the son of a god, the ascendancy of the Bridgeburners, the talons, betrayal, female circumcision, more history of the T'lan Imass (which connects to the end of the book wonderfully) and more.Yet again they're interwoven and played beautifully into a single whole that is breathtaking in scope and execution.
Review by clong
16/06/2015
Book 4 of Erikson's inspired Malazan Book of the Fallen series provides another compelling story. This is a big, complicated book (1000 pages, 7 different interweaving plot lines) set in a big, complicated world. Things that were completely beffudling in the previous books begin to make more sense, but just when you think you're getting the hang of Erikson's world he throws you a series of new puzzles. Disparate plot lines end up fitting together effectively, leaving you with confidence that Erikson both knows where the series is headed, and how he plans to get there (are you listening Robert Jordan?). In short, Steven Erikson is a true god of contemporary fantasy writing (but in the world of the Malazan Book of the Fallen, being a god just makes you a more interesting target for the big, bad, and powerful). Do NOT read this book if you are looking for light escapism and fairy tale endings. DO read this book if you are looking for the best in dark, gritty, compelling fantasy writing in the market today.
Review by DRFP
16/06/2015
And just when I thought the Malazan saga was kicking into high gear with the events of <i>Memories of Ice</i> the series is brutally reined in with <i>House of Chains</i>.Maybe it's just something about the plot or the characters involved in the Seven Cities conflict that means I've found this and book two much less enjoyable than the ones focused on Genabackis? Characterization has never been Erikson's strong point in all honesty. I know <i>what</i> certain characters are but I never I know <i>who</i> they are. Having said that, Karsa Orlong, introduced at the start of this novel, is probably Erikson's best developed character. It's a shame that for much of the first 200 pages of this novel he's not particularly likeable and that even thereafter he remains something of an untouchable character in terms of his martial prowess, a fact that renders him slightly boring. Even after that opening "book" in this novel and we're back with the Malazan's and Karsa's place in the story is established this segment of the Malazan saga never quite gets off the ground. Sha'ik's rebellion and attempted suppression is basically a conflict waiting to happen for almost the entire novel; lots of people talking about what might happen with very little actually happening. When events finally do kick off they're deftly written but the outcome is still slightly anti-climatic. Of the other plotlines in this novel - Crokus and Apsalar end up engaged in protecting the Throne of Shadow, the significance of which may or may not be proven in the future. Otherwise their time is spent getting to a point where their stories can get going again and is rather unexciting. Trull Sengar's plotline I found rather uninteresting and seemed to me an overly elaborate and long-winded way of developing just a few plotpoints and setting up book number five.I've read this far, so I'll carry on with the Malazan saga. It's just quite disappointing that after the energy of <i>Memories of Ice</i> and the revelation of the entire saga's nucleus that events slow right back down here. The explosive lift off to the epic conflict with the Chained God that I was expecting just didn't materialise. Some of the problems with his story that I thought Erikson had ironed out with <i>Memories of Ice</i> also reared their head again here resulting in that feeling of the author's reach constantly exceeding his grasp.
Also in the The Malazan Book Of The Fallen series | View all