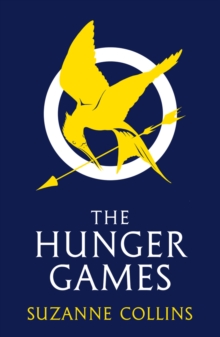 Hunger Games Adult Edition
Paperback
Description
First in the ground-breaking HUNGER GAMES trilogy. Set in a dark vision of the near future, a terrifying reality TV show is taking place.
Twelve boys and twelve girls are forced to appear in a live event called The Hunger Games.
There is only one rule: kill or be killed. When sixteen-year-old Katniss Everdeen steps forward to take her younger sister's place in the games, she sees it as a death sentence.
But Katniss has been close to death before. For her, survival is second nature.
Information
Format: Paperback
Pages: 384 pages
Publisher: Scholastic
Publication Date: 01/12/2011
Category: General
ISBN: 9781407132082
Free Home Delivery
on all orders
Pick up orders
from local bookshops
Reviews
Showing 1 - 5 of 6 reviews.
Previous | Next
Review by phoebesmum
16/06/2015
Not as bad as I had expected it to be.
Review by UltimaJenko
16/06/2015
This book is truely amazing, from beginning to end its constant suspense. I refused myself to watch the film, as I wanted to read the book first (as books are always better than the movie). I bought this book just because of the big hype of the hunger games, thinking it was just another OK books, but not the greatest. How the author has proved me wrong. You will never put this book down until you fall asleep, and I'm not joking. The whole arguement between the Battle Royale people and The Hunger Games it being similer. I have seen both films, and read one book. I can tell you that they are very different, also, it could just be coinsidence? I doubt Suzanne Collins would take an idea and risk it. I most certinaly wouldn't anyway!All in all fantastic read. Would definately recommend this to anyone! 5*
Review by moosenoose
16/06/2015
I don't normally follow the crowd and tend to avoid books with a lot of hype, but Im glad I read this one and I look forward to the sequals. The plot oozes 'reality TV' which to be honest I can't stand Yet a situation where children must fight to the death to survive, with it all being broadcast live on TV can't really be missed. As far as know this is a unique storyline, or at least its something I've personally never come across before. In this day and age that is a very good thing! Even thought this is aimed more at the YA age range, I found the characters well developed and extremely interesting. How they each coped with the idea of The Hunger Games was well thought out and it was good to have a mixture of strong, weak and just plain nasty characters. The story seems really extreme, yet you can almost see society going the same way if we let it. Scary!
Review by passion4reading
16/06/2015
A clever plot with a message, a breathless roller-coaster ride with two very strong and memorable characters, and a very moving love story: still as good the second time round as the first.
Review by jmbalfe
16/06/2015
In Panem, the Capitol does not look kindly upon even the thought of rebellion. To remind the 12 Districts under its rule of this, each year 24 youths between the ages of 12 and 18 are taken as tributes to compete for their lives in the Hunger Games. The tributes are trained, rated, and paraded in front of the enthusiastic crowds of the Capitol who gather to cheer for their favourite to live and the others to be killed – because only one tribute leaves the arena alive.This year, Primrose Everdeen is the chosen female tribute for District 12, until her older sister Katniss volunteers to take her place. Katniss and Peeta Mellark, the District's male tribute, travel to the Capitol to fight for their lives in every sense of the word. Their relationship both in and out of the arena may be their only hope for survival. And above all else, Katniss Everdeen is a survivor.This thrilling book is fast paced and tautly written, immediately drawing the reader in. Katniss is not your average heroine, but rather a distinct character: prickly and tough with moments of vulnerability made all the more poignant by the effort she puts into hiding them. The obligatory love triangle is present but is secondary to the narrative, which instead focuses on the tributes and the Games. Not your average book by any measure, The Hunger Games surpasses its designation as YA Fantasy and becomes a topical examination of our society's potential for corruption and redemption, and the ability of a few individuals to change the Game in which they find themselves.