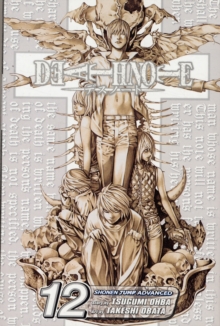 Death Note, Vol. 12
Paperback
Description
Light Yagami is an ace student with great prospects, and he's bored out of his mind.
But all that changes when he finds the Death Note, a notebook dropped by a rogue Shinigami death god.
Any human whose name is written in the notebook dies, and now Light has vowed to use the power of the Death Noteto rid the world of evil.
But when criminals begin dropping dead, the authorities send the legendary detective L to track down the killer.
With L hot on his heels, will Light lose sight of his noble goal...or his life?
The battle ends here!
Information
Format: Paperback
Pages: 216 pages
Publisher: Viz Media, Subs. of Shogakukan Inc
Publication Date: 23/06/2007
Category: Manga
ISBN: 9781421513270
Free Home Delivery
on all orders
Pick up orders
from local bookshops
Reviews
Showing 1 - 5 of 7 reviews.
Previous | Next
Review by Phantasma
16/06/2015
I was a little disappointed with the way this series ended. Yet it was quite satisfactorily creepy.
Review by tiamatq
16/06/2015
Oh Death Note - so you do have an ending! Well, sort of. Because, as we all know, there must be spin-offs. I'm not sure that I'll be flocking to those right away. This was such an intriguing story, but I feel bogged down by it after finishing. Normally, when I really enjoy a book or a series, once I finish with it, I have to do crazy amounts of research on it, find tie-ins, watch and/or read them, and obsess. Not so with Death Note. At least, not right now. So back on to the topic... and yes, of course there are spoilers in this. You'd be foolish to read a review of the last book and expect to come away without them! This is the final showdown between Light and L's heirs, Near and Mello. One of them doesn't make it to the actual face-off, and for that, I was sad. It's an incredibly tense moment, where readers feel somewhat smug about who will win, but not safe enough to crow about it. Unfortunately, all that tension, the moment of the big reveal, once again comes to a screeching stop as the Encyclopedia Brown-style explanation goes on and on and on. What I really did enjoy was getting to see Light's fall, as he realizes that things have gone wrong for him. He loses his composure, his dignity, his wit... it's all wiped out in the moment of panic, when he's been caught. Finally Matsuda got his head out of his ass and tried to stop Light! And then, we got to see Ryuk in full-Death God mode! I thought that we should've seen more of this throughout the series, that Ryuk was not just a comical figure, but something very dangerous that was always waiting for Light. The final scenes show the world, returned to the way it was, a little more easily than we expected. Hooray for Aizawa coming out of this whole ordeal! That was a character that grew on me over time. We never found out exactly what happened to Misa. I thought that the girl at the end looked exactly like Misa, but I've read that that is NOT her... oh well, guess I'll see when I read the "How to Read" volume.Okay, this was a meandering review. Overall, for the entire series, this is worth reading, if only for the moral issues that it raises. The art is incredible, the characters are interesting, though not always likeable. But sometimes the series gets so caught up in explaining the how of its little tricks that it gets distracted.
Review by pivic
16/06/2015
The final volume! At last, Ryuk gets his money worth and Light comes face-to-face with Near. So, what really happened? Everything is explained in minute detail, which slows down the pace of the entire ending, but at the same time, it is needed for most readers; mind you, Death Note was originally written for Jump Weekly, a children's magazine. It's a complex ordeal, which most of you reading this probably know.I really loved the artwork, especially of Light in his explaining sequence at the end. The writing was very good; Mello did his bit, as did the bystanders.I'd love to have seen an alternative ending, though.
Review by LunaraDawn
16/06/2015
I have to say, this is in fact my favorite manga series. I was sad when certain characters died but I know that their deaths were necessary for the plot to move forward. I quite enjoyed the intelligence showed in this series, what with several main characters being geniuses. I also like how the author had several different genres, i.e. mystery, horror, fantasy, etc., and made it almost believable. The spin-offs are good as well, though none are as good as the actual series. I hope to see more spin-offs and also more books from this author.
Review by Kassilem
16/06/2015
Okay, truthfully, I watched a fan video of the anime for Death Note so I accidently saw what happened at the end. Even so, I flew through this volume. The only thing I knew was the very end so seeing how the battle progressed was very interesting. I don't want to spoil anything here so I won't say anything more, but it is a satisfying ending. Nothing is really left hanging and the artwork stays the stay to the end. So overall, it took a little to get through this series. It seemed to drag a little after volume seven, but looking at the story as a whole, it all came together nicely. I'm glad I gave it a chance. I'm not really into mystery but the concept of trying to create a better world through these means brings up the ideas of right and wrong, good and evil, and mostly, perspective.
Also in the Death Note series | View all