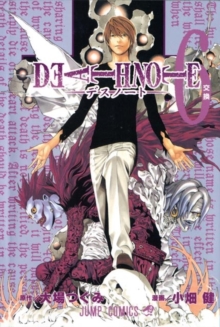 Death Note, Vol. 6
Paperback
Description
Light Yagami is an ace student with great prospects - and he's bored out of his mind.
But all that changes when he finds the Death Note, a notebook dropped by a rogue Shinigami death god.
Any human whose name is written in the notebook dies, and now Light has vowed to use the power of the Death Noteto rid the world of evil.
But when criminals begin dropping dead, the authorities send the legendary detective L to track down the killer.
With L hot on his heels, will Light lose sight of his noble goal...or his life?
Although they've collected plenty of evidence tying the seven Yotsuba members to the newest Kira, Light, L and the rest of the taskforce are no closer to discovering which one actually possesses the Death Note.
Desperate for some headway, L recruits Misa to infiltrate the group and feed them information calculated to bring Kira into the open.
But the Shinigami Rem reveals to Misa who the Kiras really are, and, armed with this knowledge, Misa will do anything to help Light.
But what will that mean for L...?
Information
Format: Paperback
Pages: 224 pages
Publisher: Viz Media, Subs. of Shogakukan Inc
Publication Date: 01/07/2006
Category: Manga
ISBN: 9781421506272
Free Home Delivery
on all orders
Pick up orders
from local bookshops
Reviews
Showing 1 - 5 of 7 reviews.
Previous | Next
Review by wvlibrarydude
16/06/2015
A great series, but this volume was a little lower in plot and character. I don't like how they have made Misa into a partial idiot. Is this just a reflection of a male chauvinistic culture in Japan?
Review by tiamatq
16/06/2015
If you haven't read the previous volumes of Death Note, I'd really recommend that you do. Spoilers ahead!A third Kira has appeared, complicating an already impossible case. L's main suspects, Light and Misa, have already been subjected to confinement and the killings have gone on without them. Light has given up the Death Note, lost his memories of his actions as Kira, and is now on the task force to find Kira, even though he's spending every minute handcuffed to L. As the task force closes in on the Yotsuba group and begins to eliminate suspects, Misa plays a vital roll in the investigation - one which leads to her learning about the Death Note, Rem, and the third Kira's identity!So the action slowed down considerably in the last volume. If you thought there was a lot of talking and speculation in previous Death Notes, you ain't seen nothing yet! L is working overtime as he tries to discover the third Kira's identity while also questioning Light and Misa and using their relationship to his advantage. Adding to this is Misa's general silliness - even trapped in L's headquarters, she's only focused on dating Light. In fact, the start of this volume is much more light-hearted (forgive the pun?) than previous ones. The drawing style, the dialogue, and the interactions between characters are brighter and somewhat tongue-in-cheek. Perhaps that's because we don't have to see Light grimacing and sneering all the time? Come to think of it, this really does show you a Light that's uncorrupted and unaffected by the Death Note. He will occasionally acknowledge that he makes the most sense as a suspect, and it makes him nervous and angry that he could be capable of such actions. Even when he's missing his memories of being Kira, I don't really like Light, but this gives us a chance to see the sort of personality the Death Note can draw out.So after all that complaining about how slow this volume is, I will say that the action picks up drastically about 3/4ths of the way through. You'll definitely want to have the next volume on hand when you finish this one!
Review by pivic
16/06/2015
The least good book in the series so far, in my opinion. Even though the author is obviously inspired, I disliked how the main characters set upon each other in a quite vain attempt to re-ignite what was there in the beginning. As a side-note I must say this makes the next volume even better, as a breather of sorts.
Review by Rhinoa
16/06/2015
So Light and L know that the newest Kira is part of the Yotsuba company, but they still don't know which of the 7 left in the group it is. They get Misa Amane to help out and go undercover at the company by being honest about being suspected of being Kira and possibly knowing who L is.Rem was Misa's Shinigami when she had a Death Note and was the second Kira and she is worried that Misa is putting herself in danger with this new plan. She shows herself to Misa and tells her the real backstory about herself and Light (who has still forgotten). All Misa wants is to be with Light and as she loves Kira being with the two at once makes her very happy naturally. What will this mean for L and the rest of the task force moving forwards.After a disappointing volume 5 this sees the action and the story back on form. The twists and turns are making more sense and I engaged in the plot again yay! Looking forward to seeing what happens now that they have surrounded the new Kira.
Review by polarbear123
16/06/2015
gets the Death Note series back on track here after slowing somewhat. There is a lot of explanation in the middle but the story really gets pacy and exciting towards the end with the chase for the 3rd Kira.