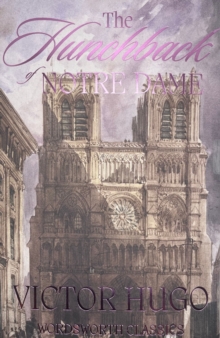 The Hunchback of Notre-Dame
Paperback
Description
With an Introduction and Notes by Keith Wren, University of Kent at Canterbury. Set in 1482, Victor Hugo's powerful novel of `imagination, caprice and fantasy' is a meditation on love, fate, architecture and politics, as well as a compelling recreation of the medieval world at the dawn of the modern age. In a brilliant reworking of the tale of Beauty and the Beast, Hugo creates a host of unforgettable characters - amongst them, Quasimodo, the hunchback of the title, hopelessly in love with the gypsy girl Esmeralda, the satanic priest Claude Frollo, Clopin Trouillefou, king of the beggars, and Louis X1, King of France.
Over the entire novel, both literally and symbolically, broods the Cathedral of Notre-Dame. Vivid characters and memorable set-piece action scenes combine to bring the past to life in this story of love, lust, betrayal, doom and redemption.
Information
Format: Paperback
Pages: 480 pages
Publisher: Wordsworth Editions Ltd
Publication Date: 05/09/1993
Category: Classic fiction (pre c 1945)
ISBN: 9781853260681
Other Formats
Paperback from £2.99
Hardback from £5.09
CD-Audio from £5.69
EPUB from £0.99
eAudiobook MP3 from £5.84
Free Home Delivery
on all orders
Pick up orders
from local bookshops
Reviews
Showing 1 - 5 of 6 reviews.
Previous | Next
Review by soylentgreen23
16/06/2015
Modern stories have done for me, they really have. As I was reading Hugo's masterpiece, I saw how all the relationships tied together from a very early point, and it seemed oh-so-inevitable and tiresomely predictable. Why? Because I've read books that take what Hugo did more than a century ago and have popularised the plot and technique, making it, for want of a better word, kitsch.But I read on to the end, enjoying myself almost reluctantly. My opinion changed when I reached the chapter about the King; no other writer I can think of would have been so brave to leave the action and excitement of the thieves' revolt to spend a good fifteen pages introducing the king of France, but there's a reason here, and possibly it's the reason for the writing of this book. It's extraordinary. And then I reached the harrowing conclusion, and now I cannot disagree with the critics that say that this is one of the finest stories ever written. I was moved to the point of tears.
Review by GaryPatella
16/06/2015
Decent story, but not wonderful. There was one moment that I believe was supposed to come as a shock and a big twist, but Hugo laid everything out in such a way as to make the surprise EXTREMELY predictable. Is it worth reading? Yes. Is it one of the best novels ever? Definitely not.
Review by fothpaul
16/06/2015
A bit tedious. The book seems to have had some sort of alternative agenda, but I'm a little unsure about what this was supposed to be. It hasn't aged well in my opinion, and I'm sure it would have been better received by Hugo's peers than by me.It took me a long time to read through the book and I found my thoughts wandering off quite a lot. The author has spent more time describing the architecture of 15th century Paris than his characters. This seemed to have been a dig at the architects of the 19th century, but was a little contrived and not particularly relevant for the rest of the story.
Review by sometimeunderwater
27/08/2015
I was prepared for the novel to be vastly different from the Disney film, more serious and 'grown-up'. In the end the distance was probably less than I was expecting. Although naturally more complex, the novel is comic and carnivalesque in a way that feels somewhat Disney. All the characters are somewhat comically grotesque, and few of their actions feel truly human. I suppose the difference is in the absence of 'good' and 'bad' characters. Esmerelda and Phoebus are as comic and irrationally-driven as everyone else, and Frollo is more screw-eyed than he is evil. The hunchback himself is no protagonist, and to my mind no more interesting than other fringe characters like Clopin, Pierre and the mad mother in the cell.
Review by Helenliz
16/06/2015
 This was difficult going. As ever with Hugo, there's an awful lot of very detaild description of things that are, of themsleves, quite interesting, but it doesn't half slow plot development. Things seem to happen in bursts with not a lot in the chapters in between. <br /><br />Maybe it took me too long to read it, maybe I didn't allow long enough to get really into it at once, but this was hard going.
Also in the Wordsworth Classics series | View all