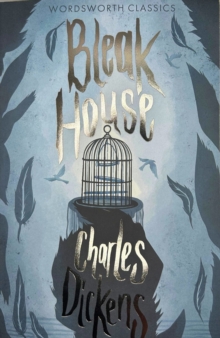 Description
With an Introduction and Notes by Doreen Roberts, University of Kent at Canterbury.
Illustrations by Hablot K. Browne (Phiz). Bleak House is one of Dickens' finest achievements, establishing his reputation as a serious and mature novelist, as well as a brilliant comic writer.
It is at once a complex mystery story that fully engages the reader in the work of detection, and an unforgettable indictment of an indifferent society.
Its representations of a great city's underworld, and of the law's corruption and delay, draw upon the author's personal knowledge and experience. But it is his symbolic art that projects these things in a vision that embraces black comedy, cosmic farce, and tragic ruin.
In a unique creative experiment, Dickens divides the narrative between his heroine, Esther Summerson, who is psychologically interesting in her own right, and an unnamed narrator whose perspective both complements and challenges hers.
Information
Format: Paperback
Pages: 800 pages
Publisher: Wordsworth Editions Ltd
Publication Date: 05/12/1993
Category: Classic fiction (pre c 1945)
ISBN: 9781853260827
Other Formats
Hardback from £10.19
Paperback from £4.39
Mixed media product from £12.17
PDF from £4.66
EPUB from £1.94
eAudiobook MP3 from £4.80
Free Home Delivery
on all orders
Pick up orders
from local bookshops
Reviews
Showing 1 - 5 of 5 reviews.
Review by mrsgaskell
16/06/2015
I read this as part of a Bookcrossing readalong in installments over a period of several months. In spite of a few chapters that were heavy going, I think it is probably my new favourite Dickens.
Review by novawalsh
16/06/2015
Very good, but very long and sad. Not sure if I would read again
Review by mbmackay
16/06/2015
This is not Dickens greatest work. Coming immediately after the wonderful David Copperfield, it is almost as if he had exhausted his creativity and was merely going through the motions. It is not until about page 250 that the narrative, briefly, comes alive. The book is written in a slightly odd combination of first-person from Esther, interspersed with a standard narrator for the rest of the text. Esther's first person account is well written, but lacks subtlety - one is left in no doubt of her qualities and modesty. There are some of the usual exaggerated characters to liven up the tale - Mr Turveydrop, the master of deportment, is one of the very good ones here. Perhaps the best character is the Equity Court and the never-ending case of Jarndyce and Jarndyce. The equity court system was abolished not so long after publication of this book - I wonder how much impact Dickens had on the decision? Good book, no cigar.
Review by SarahEHWilson
16/06/2015
I decided to read this book because the back cover of "The Nine Tailors" by Dorothy Sayers put it in the top 4 mystery novels ever written. Those who try out Bleak House from the same motivation should be warned in advance that it takes about 600 pages to get to the mystery, and it is solved within another 100 pages, and doesn't quite follow the proper conventions for mystery. Of course, this is no real surprise, since Bleak House may actually be the first ever mystery novel (vying with Edgar Allen Poe's short story about the gorilla for first detective-story ever), so a few missteps are to be assumed. I also have to say that it took me till about p. 370 to get really interested--I kept at it that long out of sheer stubbornness, plus the number of friends who told me they'd given up--and the vast cast of characters left me a bit hazy about the plots. All these caveats in place, ultimately, I loved it and was sorry when it ended. The two narrator lines, one by self-reflective Esther and one by an omniscient unidentified narrator, were extremely effective. The characters are in good Dickensian fashion larger than life. In a day when we are really into sensationalism, I was struck by how possible it is to tell a really satisfying story of basically decent people (the villains are all minor characters). In a day of rampant moralism, I was impressed that Dickens could manage social critique without descending to that level, and was even capable of mocking social reforming gone amok as in the case of Mrs. Jellyby. If only he hadn't been paid by the word and made it just a trifle shorter and more efficient... say, 550 pages instead of 700+. That's my only quibble.
Review by Wassilissa
16/06/2015
Interessantes und sehr langes Werk von Charles Dickens über einen Erbschaftsstreit (Jarndyce gegen Jarndyce), aber auch über das Leben der jungen Esther Summerson. Viele Motive, viele Personen-trotzdem kann man dem Buch gut folgen. Dickens´ Schreibstil, sein leiser Humor, seine soziale Anklage, seine Personen sind auch nach über 150 Jahren noch völlig aktuell.Jetzt schaue ich mir noch die BBC-Verfilmung an: http://www.youtube.com/watch?v=KV_rbl5hQg8
Also in the Wordsworth Classics series | View all