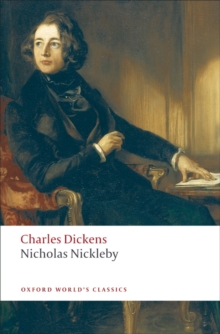 Nicholas Nickleby
Paperback
Description
Our hero confronts a large and varied cast, including Wackford Squeers, the fantastic ogre of a schoolmaster, and Vincent Crummles, the grandiloquent ham actor, on his comic and satirical adventures up and down the country.
Punishing wickedness, befriending the helpless, strutting the stage, and falling in love, Nicholas shares some of his creator's energy and earnestness as he faces the pressing issues of early Victorian society.
ABOUT THE SERIES: For over 100 years Oxford World's Classics has made available the widest range of literature from around the globe.
Each affordable volume reflects Oxford's commitment to scholarship, providing the most accurate text plus a wealth of other valuable features, including expert introductions by leading authorities, helpful notes to clarify the text, up-to-date bibliographies for further study, and much more.
Information
Format: Paperback
Pages: 928 pages
Publisher: Oxford University Press
Publication Date: 11/12/2008
Category: Classic fiction (pre c 1945)
ISBN: 9780199538225
Other Formats
Paperback from £2.50
Hardback from £6.15
EPUB from £2.99
eAudiobook MP3 from £8.00
Free Home Delivery
on all orders
Pick up orders
from local bookshops
Reviews
Showing 1 - 4 of 4 reviews.
Review by eleanor_eader
16/06/2015
Deliciously satirical Dickens, the author hell-bent on seeing evildoers get their come-uppance, and the innocent prevail, while ridiculing, with varying degrees of fierceness, everything he points his nib at. I recently read, and loved <i>Bleak House</i>, and while <i>Nicholas Nickleby</i> wasn't quite that cohesive a story - the serial nature of its release slightly more obvious - I still enjoyed it enormously (perhaps even more than <i>Bleak House</i> on the basis of the quality of writing). I worried, through the first few pages, that the biting humour might distance me from enjoying the story for its own sake, but didn't allow for Dickens' incredible storytelling capacity and unrivalled talent for character. It's impossible not to be invested in the fate of the most idly-sketched person in any of his works.Nicholas, our hero, is a pleasant and agreeable young man in pursuit of means after the death of his father leaves his family practically destitute. Relying at first upon the kindness of his uncle, and then discovering the man has none, he is first employed as a teacher at a school for young boys under the management of the brutal Mr. Squeers, where he takes under his wing – and takes off with - the loyal, if childlike, Smike. Nicholas sets about taking his fortunes into his own hands, and releasing his family, and especially his sister, Kate, from the clutches of the avaricious and vengeful Ralph Nickleby (characters whom I'd like to slap, list, head of). Some of the most hilarious, satisfying scenes in literature fall between the covers of <i>Nicholas Nickleby</i>, those wherein Nicholas makes delightful use of his fists (always where others commit outrages on those under his charge) being particularly enjoyable; the fantastic Newman Noggs finally getting to tell off his employer, and the remarkable prison break of the re-captured Smike, masterminded by the Yorkshireman, John Browdie, whose stifling of his own hilarity caused me to half-choke on mine.Better yet, barely a scene passes that isn't pasted up and down with Dickens' satirical social commentary, the perfect tone for this story which deals with the inconsistencies and injustices of a rampantly money-conscious society.Any work can be described as flawed if examined closely enough; caught up in the story, I didn't care to poke too critically at anything, and the negatives I can summon are <i>very</i> slight… there are several examples of Dickens' more sentimentally 'perfect' characters – the brothers, Ned and Charles (enjoyable), come to mind, as does Kate Nickleby (bland), although for once it's hard to knock the stereotypical 'perfection' of one woman in a novel, when the entire cast consists of people drawn at the extremes of nature – and, being a tale with a happy ending for most of those that deserve it, the single undeserved tragedy feels rather more unfair to its victim than normal. Far more poignant and clever is the end of the antagonist, towards whom the reader had developed a sort of complicated pity (which in no way precluded the urge to slap him). There exists, perhaps, a weakness in the very last tying up of the plot in that the final machinations of Ralph Nickleby seem to have, in the end, been undone largely by the virtuous following the villainous around for a bit until things reveal themselves.It took me a fortnight to read <i>Nicholas Nickleby</i> and, despite the pressing urge to read other books on my pile, and the unpleasantly small text in my copy, I consider it time well spent, an auspicious beginning to the year's reading, and a new favourite.
Review by mbmackay
16/06/2015
Dickens' third, and very wordy, work published in installments totaling 761 pages (in my Project Gutenberg download). Tells the story of Nicholas and family (mother and sister, Kate) from the time of their sudden plunge into poverty on the death of their father at the time of failed investments. The book is notionally a love story telling the romances of Nicholas and Kate, but the theme of the work is social standing and mobility - mostly abrupt falls such as faced by the Nickleby's, Newman Nogg and Madeline Bray, but also some attempts to establish a status, such as by the Kenwigses with their water rates collector uncle as their lynchpin. The writing has its soap opera-ish elements - such as when Uncle Ralph just happens to overhear Kate candidly venting her views behind a screen, and in the utterly black and white characters - pure evil such as Uncle Ralph and schoolmaster Squeers, or pure good, such as the brothers Cherryble. Dickens is also careful to avoid subtlety - where Jane Austen allows characters to define themselves by their speech and actions, Dickens sees the need to add asides to remove all doubt. Dickens has two, clearly personal, digs in the book - one against politicians when NN applies for a job with an MP, and a second when he gives a piece of his mind to a "literary gentleman" who dramatises novels for the stage. Among the darkness, there are slabs of comedy. The acting troop that NN joins, and especially the juvenile "Phenomenon" provides much humour, as does the bucolic John Browdie with his broad Yorkshire accent and simple manners. So, the book is not without flaws, but Dickens does manage to pull it off - I was in the grip of a page-turner for the last third of the book. Read December 2011.
Review by AlanWPowers
16/06/2015
My favorite Dickens, partly because it helped close down abusive residential "Public Schools" like Mr Squeers'; this effective critique of education holds much appeal to a lifelong teacher whose critiques of education have had much less dramatic effect. The scenes from the North England Dotheby's Hall are both convincing in their detailed cruelty and devastating as satire. Nickleby rescues the handicapped (or "retarded") Smike and they both leave after Nicholas is driven to beating the sadistic headmaster. The complex plot also satirizes the semi-professional theater of the day, in the Dover company of Crummles that includes the "infant phenomenon"--reminiscent of our own child actors, like Justin Biber, whom nobody satirizes now. Nicholas is hired as juvenile male lead and playwright-adapter of French plays to their minimal acting skills. This is a lively, generous, myriad-plotted book that will engage and amuse any reader with sufficient time not to feel rushed and burdened--i.e., most readers not reading for a college class. Other strands include the millenary business which Nicholas's sister Kate works in, and the machinations of the cruel "rich uncle."
Review by nosajeel
16/06/2015
I started re-reading Nicholas Nickleby thinking it was something like my 13th or 14th favorite Dickens novel (Hard Times has an uncontestable hold on 15th, or last, place). In reading the second quarter or so that judgment felt vindicated. After the excellent last half, however, I am starting to think I was unfair. Not that there are other obvious candidates one would want to downgrade.<BR><BR>There is an unfair misunderstanding of Dickens that he wrote in a hurry, by the word, in serials, and that as a result his books are not well thought out integrated novels but instead one incident following another in a somewhat muddled progression. That is unfair for just about all of Dickens
Also in the Oxford World's Classics series | View all