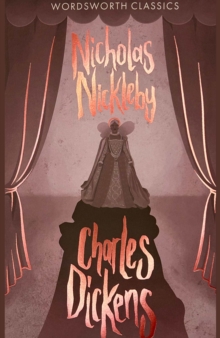 Nicholas Nickleby
Paperback
Description
Introduction and Notes by Dr T.C.B. Cook Illustrations by Hablot K. Browne (Phiz). Following the success of Pickwick Papers and Oliver Twist, Nicholas Nickleby was hailed as a comic triumph and firmly established Dickens as a 'literary gentleman'.
It has a full supporting cast of delectable characters that range from the iniquitous Wackford Squeers and his family, to the delightful Mrs Nickleby, taking in the eccentric Crummles and his travelling players, the Mantalinis, the Kenwigs and many more. Combining these with typically Dickensian elements of burlesque and farce, the novel is eminently suited to dramatic adaptation.
So great was the impact as it left Dickens' pen that many pirated versions appeared in print before the original was even finished. Often neglected by critics, Nicholas Nickleby has never ceased to delight readers and is widely regarded as one of the greatest comic masterpieces of nineteenth-centure literature.
Information
Format: Paperback
Pages: 800 pages
Publisher: Wordsworth Editions Ltd
Publication Date: 05/09/1995
Category: Classic fiction (pre c 1945)
ISBN: 9781853262647
Other Formats
Hardback from £5.79
Paperback from £3.99
EPUB from £1.39
Paperback / softback from £18.99
eAudiobook MP3 from £8.00
Free Home Delivery
on all orders
Pick up orders
from local bookshops
Reviews
Showing 1 - 3 of 3 reviews.
Review by C.J.Moran
16/06/2015
Q: Why, more than 140 years+ after his death is Charles Dickens still regarded as the greatest novelist the English language has ever seen?A: Because that is what he is.Nicholas Nickleby is a good illustration. I set myself to finish this - 776 pages in this edition - in a month; in the event it took twelve days. On most days, I only put it down because my eyes were throbbing from the small print.Of course, 776 pages is a lot of book but there is a lot of story; a lot happens to a lot of people. The reader must be given a chance to get to know these people if he is to a give a damn what happens to them. Dickens gives us this time; it is part of his art. He takes time, too, to describe people and places; remember that he wrote in the days before television, or newsreels, or even cheap picture-books. If he wanted the reader to know what something looked like, he had to describe it.To many, in this world where one death is a tragedy but a million deaths is a sound-bite, such a deliberate approach to story-telling will prove too taxing. To those with a more traditional attention span, it must simply add to the experience.And experience it is. Nickleby loses nothing with the passing of years. Dickens dealt, as do all great writers, with human nature and the real world. At root, neither changes. We are still afflicted with businessmen who know no morality beyond the p&l account; educationalists who substitute cant for understanding and choose to forget the humanity of their charges; gold diggers, cheats and frauds; and parents who care nothing for their children.Nicholas Nickleby was a page-turner in 1838 and it is a page-turner today. It has, by turns, villainy and romance, comedy and tragedy, sudden death and new beginnings. Truly, all human life is here.
Review by Jiraiya
16/06/2015
It's with a weary heart that I end my patient, obdurate reading of one of the great Victorian novels. Flowery syntax aside, let me confess that I meant, at many times, to abandon reading. The punctuation and epithet of this book was very trying to me. In the end, my unusual patience prevailed and I now declare that this was a not completely futile experience. It was justly so that the book ended where it did. Had I ditched this book I would be under the impression that all would end well. Alas it did not. Nicholas Nickleby would have earned 4 stars had the character called Smike - my fondest character in this book - not had a link with the Nicklebies. All grumblings aside, all imagined or inherent grievances aside, I wouldn't say no to a second Charles Dickens novel.
Review by eadieburke
27/01/2016
I found Nicholas Nickelby to be a very entertaining book with lots of humor. It is a long book but holds your attention because of the quirky characters that Dickens is noted for. In Nicholas Nickelby, Dickens is showing us the social injustice mainly to children. The theme of good vs. evil is also very prevalent but in the end good is victorious and the novel finishes with the characters living happily ever after. I would recommend this novel to anyone who is interested in reading about Victorian England.
Also in the Wordsworth Classics series | View all