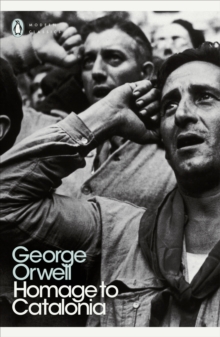 Homage to Catalonia
Paperback
Description
'Every line of serious work that I have written since 1936 has been written, directly or indirectly, against totalitarianism and for democratic Socialism as I understand it'.
Thus wrote Orwell following his experiences as a militiaman in the Spanish Civil War, chronicled in Homage to Catalonia.
Here he brings to bear all the force of his humanity, passion and clarity, describing with bitter intensity the bright hopes and cynical betrayals of that chaotic episode: the revolutionary euphoria of Barcelona, the courage of ordinary Spanish men and women he fought alongside, the terror and confusion of the front, his near-fatal bullet wound and the vicious treachery of his supposed allies.A firsthand account of the brutal conditions of the Spanish Civil War, George Orwell's Homage to Catalonia includes an introduction by Julian Symons in Penguin Modern Classics.
Information
Format: Paperback
Pages: 272 pages
Publisher: Penguin Books Ltd
Publication Date: 28/03/2000
ISBN: 9780141183053
Other Formats
Paperback from £6.09
Hardback from £14.99
EPUB from £4.99
CD-Audio from £17.99
eAudiobook MP3 from £14.24
Free Home Delivery
on all orders
Pick up orders
from local bookshops
Reviews
Showing 1 - 3 of 3 reviews.
Review by tikitu-reviews
16/06/2015
Disappointing. Orwell is not nearly as crisp and clear here as in his essays, which I'd been reading just before. The history is fascinating, but also deeply depressing. I recommend the essays for his style and <i>1984</i> for his pessimism instead.
Review by vaellus
16/06/2015
Orwell was an excellent journalist, lucid writer and determined truth-seeker as this book about his experiences in the Spanish Civil War attests.
Review by Bagpuss
02/03/2016
This was the penultimate of Orwell's 'full sized' books that I had left to read. It deals with the Spanish Civil War – a subject I knew very little about. I must admit that I had been putting this one off as I thought it might be a bit dry.<br/><br/>At the age of 33, Orwell headed to Spain, after getting the necessary paperwork from the British ILP (Independent Labour Party) to allow him access to the country under the guise of being their correspondent, and he enlisted in the POUM (Workers' Party of Marxist Unification) to be trained as a soldier. He discovers that the group are ill-equipped to go to war, many of them being just seventeen or eighteen years of age, and none of them having any decent equipment, but they are sent to the Aragón front where they stay for several months. <br/><br/>Orwell is frustrated by the lack of decent weapons, but somehow he survives (despite getting shot in the throat!) and is ultimately sent back to Barcelona where he gets caught up in a conflict over a Telephone Exchange (as unlikely as that seems!). His wife Eileen is in Spain with him during the war. Ultimately the Orwells, together with many other members of the POUM have to leave Spain in a hurry.<br/><br/>It's not as dry as I expected it to be and I found it most enjoyable. I found Orwell's writing this book as enjoyable as in others, although Down and Out in Paris and London remains my favourite of his non-fiction full-length books. In this one, a bit of Orwell's human side comes out. At one point, his hotel room is raided by plain clothed policemen, searching for evidence of Orwell's involvement with POUM, it having been declared an illegal organisation at the start of the conflict, and they remove all of Orwell's paperwork. He laments its loss, and is largely concerned with the fact that they had taken letters he had yet to reply to. He writes "incidentally, they took a number of letters I had received from readers. Some of them have not been answered, and of course I have not the addresses. If anyone wrote to me about my last book, and who did not get an answer, happens to read these lines, will he please accept this as an apology?" – it is great to hear that Orwell cared enough to reply to his readers and was concerned that he hadn't done so.<br/><br/>One thing that amused me was his thoughts on Sagrada Família , the famous Catholic church in Barcelona. "...I went to have a look at the cathedral - a modern cathedral, and one of the most hideous buildings in the world..." LOL – this is on my 'to do' list – I really want to see it. Clearly Orwell wasn't impressed! :lol:<br/><br/>The book contains two appendices – formerly chapters 5 and 11 – which concentrate on the politics of the war. Orwell urges the reader to "skip" these if they are not interested in the deep politics of the situation. I must admit to having skim read them! The rest of the book was really enjoyable though and it is with a little sadness that I look forward to my last full-length offering of his, Burmese Days, knowing it is the last for me apart from the essays.<br/>
Also in the Penguin Modern Classics series | View all