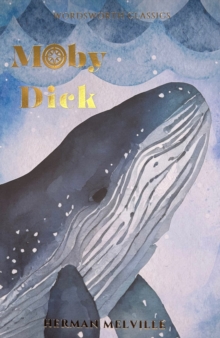 Description
With an Introduction and Notes by David Herd, Lecturer in English and American Literature at the University of Kent at Canterbury and co-editor of `Poetry Review'. Moby Dick is the story of Captain Ahab's quest to avenge the whale that `reaped' his leg.
The quest is an obsession and the novel is a diabolical study of how a man becomes a fanatic. But it is also a hymn to democracy. Bent as the crew is on Ahab's appalling crusade, it is equally the image of a co-operative community at work: all hands dependent on all hands, each individual responsible for the security of each. Among the crew is Ishmael, the novel's narrator, ordinary sailor, and extraordinary reader.
Digressive, allusive, vulgar, transcendent, the story Ishmael tells is above all an education:in the practice of whaling, in the art of writing.
Expanding to equal his `mighty theme' - not only the whale but all things sublime - Melville breathes in the world's great literature.
Moby Dick is the greatest novel ever written by an American.
Information
Format: Paperback
Pages: 544 pages
Publisher: Wordsworth Editions Ltd
Publication Date: 05/05/1992
Category: Classic fiction (pre c 1945)
ISBN: 9781853260087
Other Formats
Paperback from £2.50
Hardback from £5.09
CD-Audio from £13.05
eAudiobook MP3 from £8.00
EPUB from £0.99
Free Home Delivery
on all orders
Pick up orders
from local bookshops
Reviews
Showing 1 - 3 of 3 reviews.
Review by the.ken.petersen
16/06/2015
Some "great" books are more to be admired for their reputation than their content: not so Moby Dick. I had had this tome upon my shelves for more than two years; one of those books which one ought to own, but did I want to go to the trouble of reading its 580 pages?I was shamed into answering this question in the affirmative, by an internet reading of the work, the prequel to which was a setting of its historical position in the line of the novel. It takes very few pages for the story to grip and, once Moby Dick has got its teeth into the reader, rather like Captain Ahab, resistance is futile. I have to be honest, I did find that the tale became becalmed a midships but, I think that this had more to do with the modern expectation for instant reward rather than any fault with the book.I expect that, like me, most people only know this book as pursuit of a giant whale, Moby Dick, by Captain Ahab. There is so much more to the story; in part, it is a history of the whaling trade in the mid nineteenth century, in part the story of Ishmael, our narrator's passage from a green horn to a whaler and the story of an obsession. The ending, I found genuinely shocking: sometimes ignorance has its own rewards, and I am glad that I was able to come to this book armed with so little foreknowledge. I shall not spoil the tale for anyone lucky enough to be contemplating the reading thereof from a similar base, I shall simply envy you the pleasure to come.Melville did go to sea and, indeed, serve upon a whaling vessel. I do not have the knowledge to confirm the accuracy of his (or Ishmael's) descriptions, but they do ring true. I was particularly fascinated by the mixture of admiration and callousness that the crew hold for Moby Dick. One needs to remember the age being described and subsume our Western revulsion of the haranguing of this King of the seas; the attitude then was so different and, lest we should get too carried away by the enhancement to civilisation that the years have gifted us, I am sure that even the fixated Captain Ahab would have been horrified by the way in which we have pushed these proud beasts so near to extinction.Do not be put off by this book's reputation, READ IT!!!!
Review by daisyq
16/06/2015
I did try this once before, many years ago as a teenager, and couldn't finish it or appreciate it at all. This time round, I did like it, if I read it in very small doses. The first 110-odd pages were just great, and periodically throughout there were some really beautiful and interesting passages (poor, poor Pip!). That wasn't quite enough for me though, when there are such large stretches that don't feel like a novel at all.
Review by crashmyparty
16/06/2015
What a crazy old bugger that Captain Ahab was!It has taken me so long to finish this book that I'm glad I can slam it shut, put it on the shelf and write this review. But where to begin?I don't want to slam the whole thing. Really, I don't. Because I was quite looking forward to reading it, and the first few chapters where we meet Ishmael and Queequeg got me quite interested in the story. The they got on the ship and it all kind of slowly went downhill from there.Being on a whale ship, in between when you are actually chasing whales, must get pretty boring for the whalers. That's how this part of the book seemed to me. A lot of philosophizing about ... stuff? ... and then scientifically inaccurate (they probably seemed right at the time) descriptions of the whale as a 'big fish with lungs'. It floated in and out of the actual story (which I was more interested in) about the madman Ahab and his crazy quest to find and destroy Moby Dick (who does not appear until the 466th page, in my edition!) and the philosophy and musings and explanations from Ishmael. As the story went on I felt we lost Ishmael's point of view and it became more of a third person narrative. That was too bad - I liked Ishmael and his story. But I get that his story is a mere part of the whole adventure.I enjoyed some of this book, but mostly I was just glad to finish it!  
Also in the Wordsworth Classics series | View all