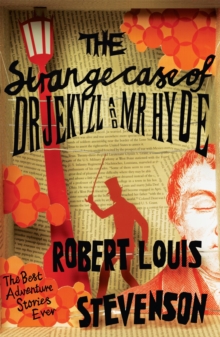 The Strange Case of Dr.Jekyll and Mr.Hyde
Paperback
Description
In one of the most fascinating works of fiction of all time, Stevenson examines the inner conflict between good and evil. Lawyer Gabriel Utterson hears of an ambiguous, solitary, violent man called Edward Hyde, who is said to have trampled over a young girl in the street, leaving her bruised and terrified.
Utterson becomes concerned when a friend of his, Dr Henry Jekyll, makes a will declaring that in the event of his death or disappearance, Hyde should inherit all his property.
When Hyde is seen killing a respected political figure, Jekyll becomes increasingly reclusive, which leads Utterson to suspect that there is more than a casual connection between his friend and this brutal 'apelike' monster of a man...
Information
Format: Paperback
Pages: 224 pages
Publisher: Headline Publishing Group
Publication Date: 12/07/2007
Category: Horror & ghost stories
ISBN: 9780755338856
Other Formats
Paperback from £1.99
Hardback from £5.09
CD-Audio from £8.59
EPUB from £0.99
Leather / fine binding from £12.45
Free Home Delivery
on all orders
Pick up orders
from local bookshops
Reviews
Showing 1 - 1 of 1 reviews.
Review by fundevogel
16/06/2015
The story has a good premise but it isn't really realized, possibly due to the irregular format. The book doesn't read like a typical novel. Instead it is broken into several small, greatly overlapping parts each narrating the course of events as they were percieved by a character. The first section is told by the lawyer Utterson, who suspects his friend the doctor is being blackmailed by Mr. Hyde, then the reader is presented with the account of Dr. Lawson to whom Mr. Hyde's identity is revealed near the end of the events of the story and finally you get the story according to Dr. Jekyll. Mr. Hyde is of course uninterested in recording his experiences.The problem is that though the idea of building a complete narrative from various points of view is a good one in this case its done rather sloppily. The accounts are more repetitive than complementary and it isn't until the last one that the idea of the duality of man is introduced in a last minute hamfisted sort of way. It reminds me of the last chapter of Brave New World where Huxley decided to spell out what his book was all about as if it wasn't already obvious to the most disinterested of readers. The only difference is Huxley didn't need that chapter to explain his intent, where as the ideas Stevenson invoked weren't at all hinted at in the rest of his book. I've heard this book was written very quickly and surmise that it's parts are akin to the scraps of writing a writer produces in the early stages of writing to flesh out their thoughts and possibly rework to actually use in the story. But Stevenson never got any further in developing his novel he just strung together the bits of writing he whipped out and called it a novella. It a real shame since it's a good story and even with the horribly bad structure and organization you can tell that Stevenson knew how to put words on the page, even if he didn't bothered to put his words to unified purpose. The edition I read also included the short stories "The Body Snatcher", "Markheim" and "The Bottle Imp". These also had a tendency to ramble on longer than necessary. Perhaps he was paid by the inch? However they were better told and were fairly sophisticated horror stories with interesting premises. Markheim in particular is the sort of story that would be an interesting piece to analyze for a literature class. It touches on similar themes to Dr. Jekyll and Mr. Hyde but is exponentially better at communicating them.
Also by Robert Louis Stevenson | View all