Science Fiction, Fantasy & Horror
Popular Genres
Popular Authors in Science Fiction
Top Science Fiction Authors
Top Fantasy Authors
Top Horror Authors
Popular Series
Arthur C Clarke
Books include: 2001: A Space Odyssey, and 3001: The Final Odyssey
Charlaine Harris
Books include: The True Blood Series , the Aurora Teagarden series and Grave Surprise.
Clive Barker
Books Include: The Hellraiser series, Arabat and the Scarlet Gospels.
A Game of Thrones
Books include: A Clash of Kings and the new book in the series A Dance with Dragons Pt2.
David Gemmell
Author of: The Rigante Series, and White Wolf.
George R.R Martin
Books include: The Song of Ice and Fire Series , and Dream Songs.
Dean Koontz
Dean's titles include: The Frankenstein Series and Watchers.
Discworld Series
Books include Going Postal, Thud! and Carpe Jugulum.
Iain M. Banks
Books include: Excession, Inversions and Feersum Enjinn.
J.R.R Tolkien
Books include: The Lord of the Rings, The Hobbit and Childen of Hurin.
James Herbert
Books Include: The Secrets of Crickley Hall, The Fog and the The Rats.
Hannibal Series
Books include Silence of the Lambs, Red Dragon and Hannibal.
Michael Crichton
Books include: Jurassic Park, State of Fear and Andromeda Strain.
Terry Pratchett
Books include: The Discworld Series, The Long Earth Series and the Johnny Maxwell Series.
Rachel Caine
Rachel is the author of: The Morganville Vampires series.

Lord of the Rings
Books include The Fellowship of the Ring, and The Return of the King.
Stephen Baxter
Books include: Flood, and Proxima.
Raymond E. Feist
Books include: The Dark War Series, The Chaoswar Saga and the Serpentwar Saga.
Stephen King
Books Include: The The Shining, Christine and the Dark Tower Series.

True Blood
Books include: Dead Until Dark, Dead Ever After and Deadlocked.
Science Fiction, Fantasy & Horror
Popular Series
New & Noteworthy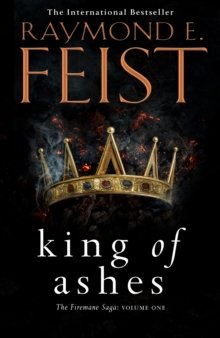 A new novel from internationally bestselling author Raymond E.
Feist. The world of Garn once boasted five great kingdoms, until the King of Ithrace was defeated and every member of his family executed by Lodavico, the ruthless King of Sandura, a man with ambitions to rule the world. Ithrace's ruling family were the legendary Firemanes, and represented a great danger to the...
Bestselling in Science Fiction
|
See more